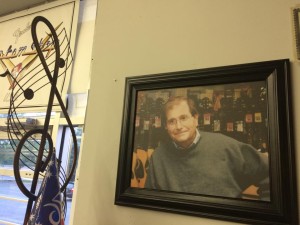 I chatted with Larry Noto of Bel Air's Music Land. We talked about his dads shop, and what it means to him.
Q: When did your dad start Music Land?
Back in Sicily, he was obsessed with music. He came over with his family when he was sixteen. They settled near the Calvert Hall area.  In the 1960's, he opened Govans Music store. I didn't know that store personally. Then in 1971, he opened a store on Bond St. in Bel Air. There was a sub shop next door to my dads Rock Spring location called Manny's. Mr. Gary, who works here, remembers Manny's son and I playing in the back with boxes building forts. In the 90's he bought this property on Gateway Drive.
Q: Why did he want to open a music store?
He loved music. It's like when teachers want to share, ya know? There are teachers here that have been teaching here for 33 years. He would never give it up. My dad enjoyed helping people discover music. They say when you love what you do it's not work..this was ALL my dad did. This was his baby. Morning, noon, and night. He would lock the door at night and come home and continue working.
Q: What was his favorite instrument to play?
He could play any instrument well, but he was known for playing the accordion.
Q: You have a School Band/Orchestra Program. When was that created and why?
It's such a big part of this business. Soon this place will be jammed from morning, noon, and night. My dad used to be here until midnight processing paper work. It's great that these kids can rent a saxophone for four months, or ten months. If they don't want to continue, they can either stop, or switch instruments. If they like it, they can rent to own, and pay off the instrument and can keep it. This year, we're trying to make it a little better experience for the parents. It's usually held in the main store. We're clearing out another area to put some chairs so they can sit down while waiting. We're also getting more credit card machines to help process payments faster.
Q: I know a lot of people that have been coming to Music Land since they were kids, and are now bringing their own. How does it feel to know that your dads shop is 
It's what inspired me to leave my job in tourism in Baltimore and it take the business over. I wanted to keep my fathers legacy alive. When he passed, all those stories were told even a the funeral home. Grown men, with tears in their eyes, saying "I bought my first guitar from your father." Or "I took my first music lesson at Music Land, and now I'm bringing my kids or grandchildren to get their first instrument." That arc of a story is told almost told daily here. There have even been people who have music books with the Bond Street store stamp in it. On the other side of that, there was a kid who came in last week with his mom. He was about sixteen or seventeen years old. He walked in, pointed to a Seafoam green Fender that we had just put out an hour earlier, and he goes "Mom, this is the EXACT one I saw in the catalog!" He bought it with the money he earns at the Bel Air Athletic Club across the street. I..always knew this place was special, but it's really hit home lately just how special it is.
Visit Music Land HERE
'Like' Music Land on Facebook