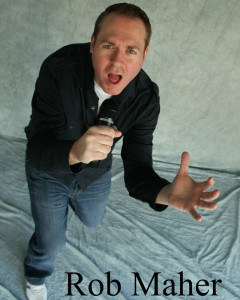 I chatted with local comedian Rob Maher about his comedic style and performing for the troops overseas.
Q: When did you know you wanted to be a comedian?
I knew that I always liked being funny. I didn't want to have a day job, so this was the next logical step!
Q: What is your favorite thing about stand up comedy?
It brings everyone together. Different ages, backgrounds, etc. Everyone LOVES to laugh. People love to live in the moment and hear something disgusting sometimes. ::laughs::
Q: Have you ever been heckled?
Every once in a while. Sometimes people want to be a part of the show, and interject themselves. They think they're funny, but they only have the guts to do it from their seat. It comes with the territory.
Q: What was it like performing for the troops?
Awesome. I've performed in 14 different countries. They have so many different jobs, it's good for them to chill sometimes. Your jokes have more weight..it feels more important. The troops want to have a good time…they NEED to have a good time. They're very appreciative to see you. I was thanked a lot for coming and performing, but I had to thank them back..they're doing all the heavy lifting, and risking their lives.
Q: What is the craziest thing you've experienced doing stand up?
I was in Afghanistan on New Years Eve 2014, and we had to hit the deck. Bad guys tend to do things on holidays. For the troops it's normal, but for you, it's scary as hell. In the end, it was just a precaution.
Q: How did the Rob and Joe podcast start?
I met Joe about 10 years ago at a comedy show. We hit it off immediately. Joe ended up getting a night show on 98 Rock called Irresponsible Radio. I was a frequent guest on that show. That show eventually ended and Joe got out of comedy and radio for a while to take care of some family and day job business. Fast forward a couple years and I got the idea we should do a podcast. We always had great chemistry on air. It was an obvious fit. Joe's brother Robby was an unpaid producer on Joe's 98 Rock so I reached out to him as well.  Robby is the more tech savvy one of the three of us so it all made perfect sense. We had less than 100 listeners at first but now we have thousands each week. We were fortunate to get on Mike O'Meara's podcast network, MORE Broadcasting. That's really helped our numbers grow.
Q: Who has been your favorite guest so far?
Probably actress Sean Young. She originally reached out to us because we posted her infamous train wreck Letterman interview on our YouTube page. For some reason that really bothered her. She demanded we take it down. We said we would if she came on the show. She kept being non committal. We do the show over Skype. One night, right as we began the show we saw that she was on Skype so we called her. To our surprise, she answered. She was quirky and cool and everything you thought she'd be. That was last October, episode 167. All of our episodes are archived on our Podbean page. 
http://robandjoeshow.podbean.com
Q: What is your favorite part of podcasting?
Having total control. Radio can be awesome, but you're always restricting yourself. Your language, your subject matter, how long you can stay on one subject..You're always a compromised version of yourself. A podcast means freedom. Having said that, we would love to the Rob and Joe Show on the radio. We treat it like a radio show. We want Program Directors to hear our show and be able to imagine it, minus a few curse words, on their station.
We also make sure our show is about us. We talk about our lives. Anyone can talk about the issues of the week but only you can talk about your life. We share more than we probably should. My girlfriend has gotten angry at me a few times for being too open about our relationship and its ups and downs. When we first started dating, I found a Magnum condom at her apartment. That's a tough act to follow. Of COURSE I had to talk about that. Joe is dating a woman 20 years younger than him. He's listening to Taylor Swift. We're not afraid to embarrass ourselves.
Rob is performing this Thursday at Magooby's! Buy tickets
Follow Rob on Twitter