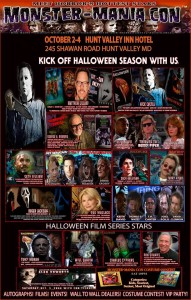 A few years ago, I discovered an awesome convention nestled in Hunt Valley, called Monster Mania. Being a huge horror fan, I figured why not go and see what all the fuss was about.
I fell in love. Almost literally. You can hang with horror fans, buy INSANE memorabilia, and meet your favorite horror celebrities. It's a place that celebrates the horror genre in a unique way. I've met COUNTLESS celebrities at this convention, and met several people who I call friends today.
I became excited this summer as the guest announcements started rolling in, which included George Romero, Dee Wallace ("Cujo" "E.T" "The Howling"), Charles Cyphers ("Halloween"), Salisbury native Dale Midkiff ("Pet Sematary") and Matthew Lillard ("Scream.")
They have Q&A panels (usually on Saturday) and show films all weekend as well. What more could a horror fan ask for?!
I had the pleasure of speaking with Dave Hagan, the owner of Monster Mania about the convention:
Q: How did you get into the convention business?
I had been running an internet horror store, and had sold at other conventions, as well as on eBay. Driving home from Pittsburgh with my oldest son Dave, we started discussing what we would do if we ran our own convention, and kicked around some ideas. By the time we arrived home, we had come up with most of our plan for Monster Mania, which kicked off the following year.
Q: Do you have a favorite guest?
That's a tough one because I've become friends with so many of the stars over the years. Ben Chapman, who played the Creature From The Black Lagoon, was a close friend who really helped us start out first show. I was devastated when he passed away. Robert Englund has always been a great friend of the show as well as so many others. Hammer horror star, Ingrid Pitt, was another that I was very fond of who has also sadly passed away.
Q: How does it feel to run the conventions with your sons?
It's absolutely incredible. They've become such a vital part of the show and have always been extremely supportive. More than anything, being at the shows with my sons and grandchildren mean the most to me. I tell my sons it took me until the age of forty to figure out what I wanted to be when I grew up.
Q: What is your favorite part of Monster Mania?
Prior to the show, it's assembling the guest list. That's kind of like picking out the ingredients to make a huge meal that you want everyone to enjoy.  Once the show gets up and running, I enjoy the VIP party and costume contest, because I  can mingle with fans and family. The rest of the weekend is spent running the show.
Q: Are you excited about this years show at The Hunt Valley Inn?
I absolutely love doing the Hunt Valley show. The fans are incredible. The hotel is the best for the convention it's always a great time!
Visit the Official Monster Mania Website
Follow Monster Mania on Twitter
Like Monster Mania on Facebook