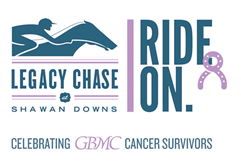 GBMC FOUNDATION TO HOST 15th ANNUAL LEGACY CHASE
AT SHAWAN DOWNS ON SATURDAY, SEPTEMBER 26
Signature event to feature steeplechase races, live music and family-friendly activities benefiting
GBMC HealthCare's Oncology Services and Celebrating GBMC Cancer Survivors
TOWSON, Md. – GBMC HealthCare Inc. will celebrate the 15th annual Legacy Chase on Saturday, September 26, 2015 at Shawan Downs in Cockeysville, Md. This time-honored annual tradition of steeplechase racing and family-friendly fun will draw more than 7,000 equestrian fans, friends and families from across the region. The annual Legacy Chase event will benefit oncology support services at GBMC HealthCare and celebrates GBMC cancer survivors.
"It is our vision to treat everyone as we would want our own loved ones treated. Nowhere is that more apparent than at The Sandra and Malcom Berman Cancer Institute at GBMC HealthCare," said John B. Chessare, MD, President and CEO of GBMC HealthCare Inc. "Cancer is a long and difficult journey. The physicians, nurses and staff become family to our patients and treat them like family in return. During our 50th anniversary year, we reflect on the healthcare system GBMC has become, and we are honored to celebrate and remember with our patients and their loved ones, as well as our dedicated medical staff who through their time and efforts have provided exceptional care at GBMC over the past five decades."
Stretched across 300 acres of green meadows at Shawan Downs in Northern Baltimore County, Legacy Chase attracts visitors of all ages who turn out each year for the steeplechase races, railside tailgating, live music, great food and family-friendly activities, including the time-honored tradition of the G. Leslie Grimes Stick Pony Race.
Gates open at Shawan Downs at 10:00 a.m. on Saturday, September 26 and Opening Ceremonies kickoff at 12:00 p.m. The first of five steeplechase races will begin at 1:00 p.m. The kids' Stick Pony Race will be held on the track at 1:30 p.m., between Races 1 and 2. Guests who purchase GBMC Legacy Club Luncheon tickets will be treated to a buffet lunch and tent to view the races on Founder's Hill, but anyone can purchase a parking pass to attend the event and watch from the hill. To purchase lunch tent tickets or a parking pass for the 15th annual Legacy Chase, visit www.gbmc.org/LegacyChase.
Proceeds from the 15th annual Legacy Chase will benefit oncology support services at GBMC HealthCare to ensure a healthier future for all. GBMC HealthCare has worked to perfect oncology services over the last 50 years of operation. The only comprehensive community cancer program certified with distinction by the American College of Surgeons Commission on Cancer in the Baltimore region, GBMC has invested in talent and technology to provide the best for oncology patients. Whether they are in need of outpatient, inpatient, home care, hospice or survivorship services, the more than 2,000 new cancer cases GBMC diagnoses and treats annually receive the best care from top oncology talent and leadership.
As part of its 50th anniversary celebration in 2015, GBMC HealthCare is honoring the organization's service to the community over the last five decades. The celebration will conclude with a Gala event on October 2, 2015, which marks 50 years to the day since GBMC HealthCare's groundbreaking ceremony in 1965. For further information, please visit www.GBMC50.com. GBMC is also encouraging members of the community to utilize the "Share Your Story" form on the Web site to submit personal stories and photos, recounting their experience at GBMC HealthCare over the years.
About GBMC HealthCare Inc.
GBMC HealthCare Inc. strives to fulfill a vision of providing every patient, every time with the care we would want for our loved ones. Through our 255-bed medical center (acute and sub-acute care), which handles more than 26,700 inpatient cases and approximately 60,000 emergency room visits annually; the nearly 1,300 physicians who serve on GBMC HealthCare's medical staff, making it among the largest of any community hospital in the mid-Atlantic region; Greater Baltimore Health Alliance (GBHA), an accountable care organization (ACO) since 2012, was Maryland's first established ACO. GBHA includes providers from six independent practices.
Greater Baltimore Medical Associates (GBMA), a multi-specialty group practice of more than 40 physician practices owned by GBMC HealthCare Inc., operating on the hospital's main Towson campus as well as in satellite locations across the region; Gilchrist Hospice Care, an award winning Medicare/Medicaid certified hospice program and the largest hospice organization in the state of Maryland; and the GBMC Foundation.
About GBMC Foundation
The mission of the Foundation is to generate charitable funds in support of GBMC HealthCare. The Philanthropy Committee members along with the GBMC HealthCare and Gilchrist Hospice Care Board of Directors, have a responsibility in carrying out this mission – with the support of philanthropy staff – through annual appeals, fundraising events, major and planned gifts and capital campaigns. Together, we will seek gifts from grateful patients, families and friends of the GBMC HealthCare System, as well as corporate, foundation and government grants.
About Shawan Downs
In the summer of 1997, the heirs to Shawan Farms decided to sell 300 acres of mostly inactive farmland near Hunt Valley in Baltimore County. Unsettled by the growing likelihood that eager homebuilders would transform the tranquil acreage into a clustered, bustling development, a group of local citizens acquired the property under the aegis of the Land Preservation Trust (LPT). The property is now preserved and the intention is to maintain its agricultural legacy. LPT, a nonprofit 501(c)(3) corporation, is now engaged in the second phase of the project — Shawan Downs —a world-class equestrian center and steeplechase course. Shawan Downs features horse shows, horse trials and other equestrian activities. In keeping with the center's preservation mission, no significant infrastructure will be required to accommodate the equestrian facilities.
— http://GBMC50.com —
— www.GBMC.org/Philanthropy – www.gbmc.org/legacychase —