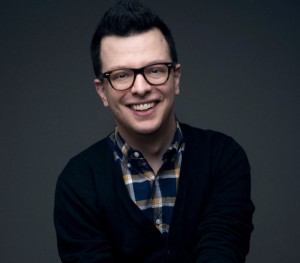 I talked to author and Baltimore native, Isaac Oliver, about his memories of growing up in the area and his book "Intimacy Idiot."
Q: What is your favorite memory of living in Baltimore?
Oh there are tons, but here's comes to mind: going to see shows at the Mechanic Theater (may it rest), idling around Towson Town Center, late night at the Papermoon Diner, rehearsing musicals and editing the newspaper after school at Carver Center, and lately, playing board games with my parents in their new condo.
Q: You say in your book that you were the last person to realize you were gay. How did you expect your loved ones to react?
At the time, all of the coming out narratives on television and movies were extremely dramatic and painful, so I assumed mine would be as well. It wasn't. Like I say in the book, my parents had a lot of time to gather and iron out their thoughts, so by the time I was old enough to realize who I was, they were ready. As I told more and more friends, the only umbrage they took was that I hadn't told them sooner. I take none of this for granted, but in a way I would've liked to take someone by surprise. Oh well.
Q: Did you doctor really tell you your inside would unspool from your outie?
He did, in so many words. "Unspool" is one of mine.
Q: Tell me about Batman vs. Catwoman: On Skates!
You're really regretting missing it, aren't you? Only a rarefied few saw it, and I'm sure they still speak of it. It was a one-afternoon-only show that I staged in the alley behind our duplex in the city when I was a kid. I cast my brother and all the other neighborhood kids. We all wore roller skates. What was the plot? Read the title. That was the plot. There were girls available to play Catwoman, but I cast myself. You'll have to buy the book to see the pictures.
Q: Why did you want to compile all of your escapades into a book?
I've always wanted to write a book, so it's a dream come true. And, believe me, these are not all of the escapades – these are merely the ones that I thought were worth telling, the ones from which something is gained in the telling and hearing.
Q: Why did you include Subway Observations in your book?
Riding the subway, when it behaves, has always been one of my favorite parts of living in New York. The moments I've witnesses are remarkable. You're exposed to such diversity, to such pain, and poignancy and absurdity. I'm certainly not the first to write subway overheads, but I wanted to try and capture a little bit of that in my own way.
Q: The funniest story in my opinion was the Skype/Dildo story. I LITERALLY lol'ed. Which anecdote is your favorite?
"Love Poem for the Classiest Gay Guy on Avenue A."
Q: Are you excited to a part of the Baltimore Book Festival?
Yes, incredibly! I'm honored to included, and it's always a pleasure to come home and read for a hometown crowd. Won't you please come?
Isaac Oliver will be a guest at this weekends Baltimore Book Festival! Appearance Info
Buy Isaac's book, "Intimacy Idiot"
Follow Isaac on Twitter
Visit Isaac's Official Website