I talked with local author Scott Meek about his book "Sesame Swallow."
Q: Where were you born?
Hattiesburg, Mississippi.
Q: When did you start writing?
About ten years ago. I had a blog on MySpace, as a way to deal with my divorce. I would write short stories poems..as a way to deal with frustration. Lots of people died in those stories. ::laughs::
Q: Why did you want to write a book like "Sesame Swallow?"
"Fifty Shades Of Grey" was crap-tastic I thought. I wanted to write a funny book about Baltimore hook up culture.
Q: Is the character Sesame Swallow based of anyone?
No, not really. It's a mix of all the women I know and have dated. I've also talked to friends and gotten some ideas. My wife helps with her dialogue in the novel.
Q: What has been the reaction so far?
People locally love it. They understand the culture. It's for the sexy book crowd..suburban housewives if you will. It's more in your face. It's fun to have a sexy scene in each chapter. She's like Nancy Drew all grown up.
Q: Would you like the book to be turned into a movie? And who would play Sesame Swallow in your eyes?
That would be amazing. I love "Californication", but I'm not sure if America is ready for a woman to get down every week. I've always envisioned Sesame as a Emma Watson type. It looks like her on the book cover. She's not Hermoine anymore, fellas!
Q: Do you have any upcoming projects?
I do! I have a book called "Crabquake" in the works. A second "Sesame Swallow" is written, and a third is in the planning stages. I can't wait to revise and release them!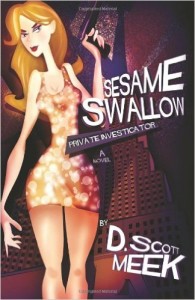 Buy "Sesame Swallow" on Amazon
Follow Scott Meek on Twitter