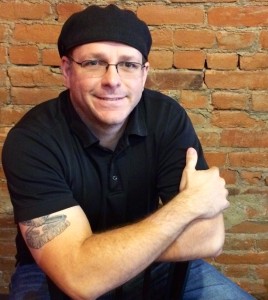 I talked to author, Tobias Buckell, about his experiences as an author, and connecting with his fans.
Q: Where were you born?
I was born in Grenada. Ultimately, I settled in the states in Ohio.
Q: When did you know you wanted to be a writer? First piece of work?

I wrote my first short story at age thirteen.
Q: I loved "Hurricane Fever." If that were to be made into a film, who would you like to play Prudence 'Roo' Jones?
Idris Elba. No doubt. I think he's one of our finest actors, and deserves a shot to play Bond..but Prudence first. ::laughs::
Q: How does it feel to be a NY Times best selling author?
It's opened a few doors for sure. I get a check every six months for that book..that's always nice. As an author, it's a milestone you hope to achieve.
Q: Do you have any upcoming projects?
I have a young adult novel coming out late 2016/early 2017. It's about a young boy in the Virgin Islands, who gets a chance to get on an alien spaceship.
Q: What is your favorite part of connecting with fans?
It's really cool to meet people who've read your cook and chat with them. I'm honored, actually, when readers give me feedback. I like talking to people who haven't heard of me..hopefully that makes a connection and leads them to buy a book!
Tobias is a guest at this weekends Baltimore Book Festival!
Tobias Buckell Baltimore Book Festival Schedule
Visit Tobias' Official Website
Follow Tobias on Twitter