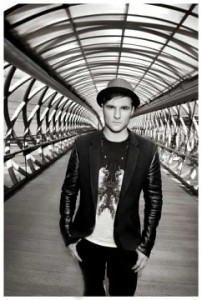 I chatted with Blake Lewis about his stint on "American Idol", and his love of music.
Q: Growing up, who were your musical influences?
My mom played guitar, and my dad is a classic rock guy.  Growing up, I loved Michael Jackson, Duran Duran, Prince, Sting..Hip Hop and EDM were a big influence as well.
Q: When did you first discover you could beat box/scat?
It's weird because I've been beat boxing my whole life. ::laughs:: I saw an acapella group in Seattle..I think it was my junior year in high school. I said to myself "I can do that…wait, I AM doing that." ::laughs:: That's when it became conscious.
Q: Was life hard after "American Idol?"
That show is a whole different world. It's crazy knowing you have thirty million people watching you. It was great knowing that there were people out there supporting you. I've had people reach out to me from all over the world…it's pretty special.
Q: Favorite part of performing live?
Oh man. It's a genetic rush of energy. The moments you have with musicians on stage, and vice versa, you just can't bottle it. You have to experience it. It's adrenaline at the highest maximum capacity.
Q: What are the pros and cons of touring?
Depends on how long you're touring. ::laughs:: It's a ton of work and stress. You're doing social media all day..that's how you promote nowadays. You might have an hour or two before a show where you can actually see family or friends. But mostly doing press. After the show, and after your partying, you do the same thing the next day. It can get monotonous. And exhausting. My favorite thing about touring is playing for people who've never heard of me. The Pros? It's my life..it's my H20. I NEED to be on stage at least once a week..if not, I get SO cranky. The cons would be being away from family, for sure.
Q: How did this tour with Elliott come about?
We played a show in Missouri for a month. I hit up my agent, and said "Let's make this happen!" We're roomies..we hang out ALL the time. He's become one of my best friends.
Q: What is it like sharing the stage with one of your best friends?
Elliott is one of my favorite voices of all time. We have lots of fun on stage. We'll be on the road, and just drive around. Experience each city together.
Elliott Yamin & Blake Lewis: The Soul Tour hits Rams Head On Stage 9/29. Buy tickets + VIP passes
Follow Blake on Twitter