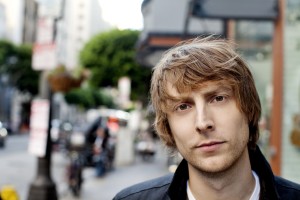 I talked to musician Eric Hutchinson about his career and his love for the Orioles.
Q: Where were you born?
I was born in Washington, D.C. I grew up in Montgomery County. My dad had partial season tickets to the O's, so we'd drive up to Memorial Stadium, and then later to Camden Yards. My prom date and I went to the Inner Harbor before we went to the dance!
Q: When you were growing up, was there a moment when you said to yourself "I want to be a musician?"
I had a very musical family, and songwriting came very naturally to me.  I loved singing since I was eight years old. The next logical step was making up my own songs, singing them into my tape recorder.
Q: I've listened to some of your stuff, and "Forever" sticks out. What is your favorite song that you've recorded?
Thanks! I look at my songs like tattoos. I know why each one is here and what I was thinking when I wrote them. But every now and then I think "Oh I wouldn't mind getting THAT one removed." I love singing "Forever." We usually close the show with that one and I go out into the audience and dance with everyone.
Q: Do you have any artists/musicians you look up to?
Tons! I was raised on the classics: The Beatles, Stevie Wonder, Aretha Franklin, and Paul Simon. These days I try not to idolize anyone. Everyone's just a person making music, following a passion, fighting and hustling.
Q: What is your favorite Orioles memory of all time?
Toooo many to count! The whole 2014 playoff run was really exciting. Sweeping Detroit felt like a dream.
Q: Favorite player?
I loved Mickey Tettleton when I was a kid.! These days, I love Manny Machado, Adam Jones, Chris Davis, and Caleb Joseph. And Buck of course. I got to meet him at a party and he was the nicest guy. Told me he grades every person who sings the National Anthem. I think of him every time I hear it now.
Q: What do your fans mean to you?
I have great fans! I think they're smart music lovers who enjoy goofing off and having fun. Can't wait to see them in Baltimore!
Eric headlines Baltimore Soundstage Monday. Buy tickets
Follow Eric on Twitter
Visit his Official Website