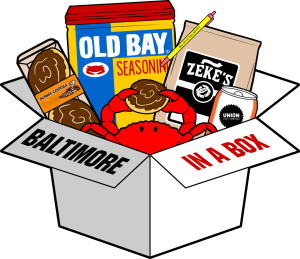 I sat down with Ross from Baltimore In A Box recently. We talked about his new location in Highlandtown, and his new emoji app!
Q: How did you come up with Baltimore In A Box?
My family actually owns Big Boyz Bail Bonds. I've helped them with shipping their pens all over the world, if someone requested them. I thought to myself "There are probably a lot of other things iconic to Baltimore that people will want shipped to them, and that I can sell in store."
Q: What is your favorite product?
My personal favorite has to be Old Bay. It's one of the few things everyone around here goes crazy for. They're coming out with different flavors now. We just started an Old Bay Box, with just Old Bay items. Looking forward to getting that rolled out.
Q: What has been the response to this whole thing?
It's been pretty great. We started back in October 2014, right before the holidays. The holidays was JUST crazy. It was one of the hottest gifts idea locally..I think Baltimore Magazine said that in an issue of theirs. I had to turn the website off due to the high volume of orders. I didn't want to ship something, and then it not get there by Christmas Eve. I thought it would die down after Christmas, but it's been very steady each month.
Q: Do you have a most requested product?
Definetly Berger Cookies. This summer was a little tricky though. The fudge on the cookies could melt, and then ruin other things in the package. Berger Cookies actually don't ship many things during the summer. Fortunately, I haven't had an issue like that yet.
Q: You just launched the sticker/emoji app. Why did you launch it?
I felt there was an opportunity after the Ravens launched their app. I give total credit to them on the idea in a way. I thought there were so many different things around here that would be cool stickers or emojis. The only issue I've had is Pabst asking me to not use Natty Boh in their app. On the flip side, I've had companies ask me to include their products in a new version of the app.
Q: What is your favorite emoji?
I LOVE the Omar emoji. The facial expression he's making in that particular sticker is just funny to me.
Visit Baltimore In A Box's Official Website
Follow Baltimore In A Box on Twitter
Like Baltimore In A Box on Facebook