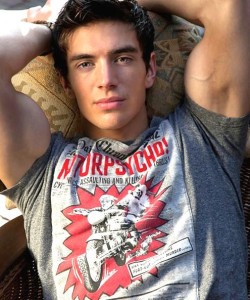 I talked with singer/songwriter Steve Grand about his career and hit song "All American Boy."
Q: Where are you from?
I was born and raised in Lemont, Illinois. It's a suburb of Chicago.
Q: You were obsessed with Schroeder from Charlie Brown as a kid?
Ye! Peanuts is really what inspired me to play piano. I loved it and my parents noticed my obsession with it. They got me this old, upright piano. I loved it.
Q: When did you know you wanted to be a musician?
Around the age of thirteen. I started writing and recording my own music on my computer. Around the same time, I came to the realization that I was gay. I felt like an outcast. It was my way of making myself feel heard. It's very therapeutic.
Q: Who are your musical influences?
Everything from The Beatles, Rolling Stones, Led Zeppelin, Billy Joel, Elton John..Fall Out Boy, Hozier, Lady Gaga, Lana Del Ray..tons. ::laughs::
Q: What is your song "All American Boy" about?
It's about unrequited love between two men.
Q: Why did you name your album "All American Boy?"
When I was growing up, my dad would pat me and my brother on the head leaving church and say "My boys..typical all American boys." Sports, good grades, building tree houses..those were all things in his mind that made someone 'All American.' When I came out, that identity didn't fit. So it's symbolic..re-framing an identity that I encourage my fans to do as well.
Q: Favorite song off the album?
Probably "Time." I did something in that song that is more difficult to achieve as a songwriter. It's my best job of telling a story to date.
Q: Do you have any advice for anyone trying to enter the music business?
I would say do it because you love it, and you can't do anything else in the world. Try to find your own unique voice and path. It's great to be inspired by other people, but people will like YOU because you're the best YOU you can be.
Visit Steve's Official Website
Follow Steve on Twitter