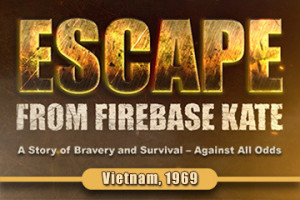 Maryland Public Television airs film recounting U.S. soldiers' daring
escape during Vietnam War
One-hour documentary airs on November 9 at 10 p.m.
OWINGS MILLS, MD – Escape from Firebase Kate, a story of bravery and survival during the Vietnam War, airs on Maryland Public Television (MPT) on Monday, November 9 at 10 p.m. The one-hour historical documentary recounts the three-day siege at Firebase Kate in 1969 leading to the daring escape of more than 20 U.S. soldiers through the jungle and past thousands of North Vietnamese troops.
Narrated primarily by 12 of the American soldiers who were at the base near the Vietnam-Cambodia border, the film captures the human drama and emotion behind the efforts to survive in dire circumstances. The documentary also transports viewers back to that time by using actual audio recordings of communications between ground forces and supporting Air Force gunships during nightly air strikes. More information is available at escapefromfirebasekate.com.
Escape from Firebase Kate is one of several programs MPT is featuring in November to commemorate Veterans Day and honor Vietnam-era and all U.S. military veterans. The other programs are:
·         America's Veterans: A Musical Tribute, airing November 10 at 8 p.m., MPT salutes our men and women in uniform with a performance by the U.S. Air Force Band. The program commemorate the 50th anniversary of the Vietnam War with music of the '60s and '70s.
·         Debt of Honor: Disabled Veterans in American History, airing November 10 at 9 p.m., a documentary that examines the plight of disabled veterans throughout American history through archival footage and interviews with prominent veterans.
In addition, as part of its MPT Salutes Vietnam Veterans project, MPT will honor Vietnam-era veterans in May 2016 with a three-hour documentary, Maryland Vietnam War Stories, followed in June by a special two-day public event, LZ Maryland, taking place at the Maryland State Fairgrounds. More information is available at mpt.org/vietnam.
Escape from Firebase Kate premieres on MPT-HD on Monday, November 9 at 10 p.m. and will be rebroadcast Tuesday, November 10 at 2 a.m. The film also airs on November 10 at 9 p.m. on MPT2.
About MPT
Launched in 1969 and headquartered in Owings Mills, MD, Maryland Public Television is a nonprofit, state-licensed public television network and member of the Public Broadcasting Service (PBS).  MPT's six transmitters cover Maryland plus portions of contiguous states and the District of Columbia.  Frequent winner of regional Emmy® awards, MPT creates local, regional, and national television shows.  Beyond broadcast, MPT's commitment to professional educators, parents, caregivers, and learners of all ages is manifest in its year-round instructional events and super-website Thinkport which garners in excess of 1.4 million visits annually. 
###