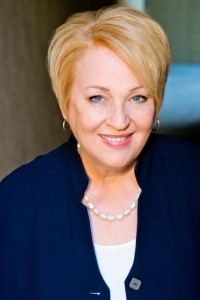 I spoke with  star Dale Raoul about her career, and about her experiences on the hit HBO series "True Blood."
Q: What was your first acting gig?
I was about six years old I think. I was cast as the 'Mother' in a kindergarten pageant because I was the tallest.
Q: You've done some theater work throughout your career. What is the hardest part of performing night after night?
Like most actors, it's my favorite! I actually started out in regional theater, and then went to school for it. The biggest thing about theater is keeping it fresh. You have to remember each time you perform it, it's supposed to be "for the first time."
Q: Did your appearance on "Murder She Wrote" help you prepare for being on TV?
A little. It was my very first TV job. I was VERY nervous. It was Angela Lansbury!! Of course I was pretty nervous. At the time, I didn't understand how shooting a TV show worked. I also didn't realize how long it would take. I kept waiting in my trailer saying to myself "They must've forgotten about me!"
Q: What was your favorite part of working on "True Blood?"
I think it was seeing what the writers came up with each week. So exciting! I loved seeing the evolution of all the characters including my own. I was so blessed to have those words to say every week. The writers kept making my character more and more extreme. ::laughs:: Maxine was so much fun to play.
Q: Do you have a favorite memory from set?
I would say all the premieres in Hollywood. The last seasons premiere was held at Mann's Chinese Theater. We had a HUGE red BLOOD carpet. That one was extra special.
Q: Are you like Maxine Fortenberry in any way?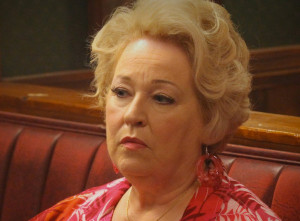 I hope not! ::laughs hysterically:: I'm waayy more compassionate..at least I hope so. Maxine thinks nothings wrong with her. I loved her hair and accessories. She could come up with some zingers!
Q: What is your favorite horror film?
"Psycho" is a classic. This year, I loved "The Babadook."
Q: Why do you think "True Blood" was so popular?
It was all the sex and hot men. ::laughs::  The audience could relate to the vampires being outsiders, I think. The love story between Sookie and Bill brought in viewers, as well as having a good thriller or mystery each season. Those are the elements needed to bring a well rounded story to screen.
Q: Do you have any upcoming projects?
I do! "The Bronze" which was written by, and stars "Big Bang Theory's" Melissa Rauch. That should be opening in the near future. Also, I'm starring in a play called "Forever House", which opens in Los Angeles this January.
You can follow Dale on Twitter HERE