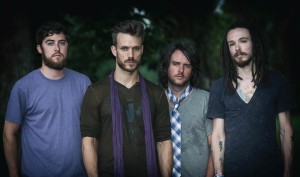 I talked with Dylan Galvin of band Iz'em, about their new CD and launch party!
Q: How did Iz'em form?
We started off as The Piranhas. I wasn't in the original group. We ended up playing a few open mics together, then we hung out a few times. At the time, I was rehearsing with another band. The guys came to me and said that they had a paying gig the next day. I was living in my parents basement at the time, so I took it. We have different musical tastes, so writing has been very collaborative.
Q: Who are the bands musical influences?
That's where it gets interesting! Mike is fan of Tool, AFI, Taking Back Sunday..harder rock. Cameron likes neo-soul stuff..like D'Angelo. I'm a big fan of singer/songwriter stuff. John Mayer..Jeff Buckley. Anyone of any who stands out..someone un-containable. Justin is influenced by some..really out there stuff Hardcore scream stuff, EDM. This is all so interesting because our sounds are so eclectic.
Q: Favorite song off the new album?
It's not one that I wrote, oddly enough. It's called "Stellarsphere.' It encapsulates all four members as one soul. It has a huge build up. It's a song about doing the drug DMT. Whenever someone ingests it, it makes you hallucinate. It's intense! It usually lasts around ten minutes. There's this underground culture of people that almost worship it. It's a roller coaster ride.
Q: Favorite venue locally?
Power Plant! It's a weird catch 22. That crowd is so fickle. You can have a dead night, and thirty seconds later it's PACKED. Then ten minutes later, it's dead. I love the energy. People go there to have FUN.
Q: What is it like knowing your fans helped release this album?
That's one of the coolest things about IndieGoGo. Everyone who donates is getting something equivalent or more value. It consolidates the fair weather fans from the rest. Your art is worth something to them. It's a confidence boost.
Q: Favorite part of performing live?
The moment when you into this energy that is outside the immediate space that's always there. It's not until you start to channel it, and tap into it. The more you perform, the more you can figure out. For example, we were playing at a country club. It was NOT our usual demographic. Lots of golfers.Usually when we play more originals, people tend to not respond. We just went for it! It doesn't matter what you play, it's when you tap into that energy. It's the coolest thing in the world.
Q: Are you excited about the album release?
I am..VERY excited. I'm hoping it gets to the right people. If you pick the right person, they'll tell everyone and their mom about the album. We don't have enough to nationally distribute, but we're hoping for that domino effect. I hope there's enough attention to turn it into a tour. I'm not really nervous..I'm more hopeful and realistic!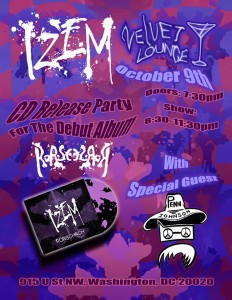 Iz'em's album launch party takes this Friday at The Velvet Lounge in Washington, DC!