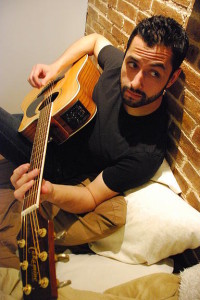 I talked to local singer/songwriter Steve Herrera, about his love for music and performing live.
Q: Who are your musical influences?
Oh I have tons really. Dave Matthews Band, classic stuff like Pink Floyd, The Beatles, Led Zeppelin..newer stuff liked Radiohead and Coldplay. Tripped out rock!
Q: When did you know you wanted to be a musician?
It was when I saw my first live concert..Oasis at the Jones Beach Theater in New York. It was so cool..I was sold on it. I told myself 'I gotta get up there!' "Champagne Supernova" had a huge impact on me.
Q: What is your favorite song of all time?
"Bohemian Rhapsody." It's so epic..I love it. It's soft and beautiful, then operatic. Great lyrics and production.
Q: What is your favorite song of yours?
That's a toughie. On the E.P. I have out now, it has to be "Watch You Slowly."
Q: What is your favorite part of performing live?
The energy that you feel from the crowd. It's addictive. You're nervous before you go out, but it EXPLODES when you get out there…like a massive ball of extreme energy.

Q: Why did you decide to offer guitar lessons on your website?
To make a little extra cash. ::laughs:: I teach occasionally on the side as well.
Visit Steve's Official Website
Listen/Buy Steve's E.P.
Follow Steve on Twitter