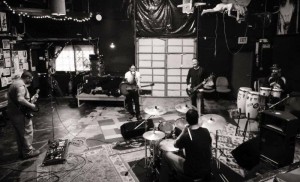 I chatted with Kevin Baker from The Mayan Factor about getting the group back together and life as a rocker.
Q: When did you know you wanted to be a musician?
It was later in life than most people. I was fifteen or sixteen. MTV got the best of me. I was a metal kid. Guns N  Roses, Skid Row. At the time everyone needed a bass player, not a guitar player. I slowly got into the writing part of music
Q: How did Mayan Factor form?
I used to go open mic nights at 8×10 back in the day. Open mics get bad raps, but sometimes you can find diamonds in the rough. There was this one guy that looked like he had a wise soul. Ray Schuler. We called him Ray Ray. He brought so much emotion into these original songs he would sing. Personal tales of family, drugs, loss, etc. He'd end up crying off stage. He gave it everything he had..it drained him. After seeing him a few times, I asked myself "Who in the industry is doing THIS?" I got a hold of him, and said we should do something together. He resisted at first. We used some of our contacts and put Mayan Factor together. We practiced relentlessly. We would practice three nights , then play shows three nights. Every time we played, more and more people would come.

Q: Is it stressful balancing work, family, and two bands?
Its not stressful..I have an awesome life. My wife and I met when I was touring and playing a lot. I would get cranky if I didn't play. It's like art..it can be intense sometimes. We work hard for a year, put out an album, and then pull back. For me it rounds out my personality. My creative flow takes the edge off of work. ::laughs::
Q: Favorite part of performing live ?
We practice, but once we get to a certain point, we vibe off each other. We let the tension build until the audience says to themselves "What are these fuckers doing?" We're a well rehearsed machine, but Mayan Factor lives in a place that's outside of what's comfortable. We have to be comfortable in being uncomfortable.
Q: Why did you guys decide to reunite?
We wanted to do one big show on 12/21/12, the date of the Mayan apocalypse. Ray had passed away before that however. As a band, we LOVE playing our old stuff. We feel musically rooted in this band..it's like we hit a magic spot.
Q: Favorite part of the Baltimore music scene?
It's changed SO much from years ago. In the nineties, we were a core group of musicians. But now, it's so diverse. Baltimore is a rock n' roll town, with tons of different influences. Jam bands, psychedelic, hip hop rap..from Charm City Devils to Pasadena. It's all over the place. Now it's welding a lot of different influences together to create great music.
Visit The Mayan Factors Official Facebook Page
.