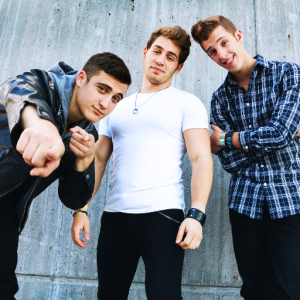 Q: Is there a meaning behind the band name?
It's an acronym..but I won't tell you what it means. You'll have to guess!
Oh…I have a few ideas..
Q: Who are your musical influences?
All Time Low, Yellowcard..we got to meet them during The Warped Tour. Man, we got to hang out with some of our idols. It was crazy hanging out with people who you've looked up to your whole life.
Q: Is it hard for you guys to write songs together?
Sometimes we'll be at odds, but not often. We have a 2-1 majority wins rule. Everyone brings something to the table. Scott will bring a cool riff on the guitar, and we'll try to mix and match it. We're going back to the studio in January. We're excited!
Q: What is your favorite part of performing live?
When the fans sing back to us. It's humbling. Indescribable. It's a feeling of unity between of us and them.
Q: What was it like performing at the Warped Tour?
IN.SANE! That experience brought us closer together no doubt.
Q: What is your favorite song that you've written?
It has to be "Perfect For Me." It was on our first album, but we decided to re-record it for our second. We put some nice piano in there.
Q: What do your fans mean to you?
They mean the world to us. We wouldn't be where we are without them. They're the reason we're able to do what we do with passion and heart.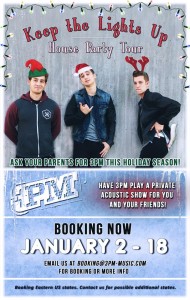 Want 3pm to play a  private house party for you? Email them!
Visit 3PM's Official Website
Follow 3PM on Twitter
'Like' 3PM on Facebook