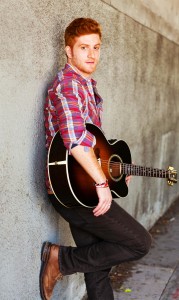 I spoke with singer/songwriter Dan Godlin about growing up in Boston, and his passion for music.
Q: Where did you grow up?
I grew up in Sharon, Massachusetts. People assume that I'm from Massachusetts, and have red hair, I'm Irish. I'm not. ::laughs::
I've always wanted to visit Boston
We've been CRAZY spoiled up here with sports teams. Boston people are fun. It's a charming region to live in. I live in New York City currently..I don't really know much about Boston nightlife.
And you guys have Cheers!
Cheers..?
The bar..from the TV show!
Oh! Haha! See, I haven't visited Boston much. I tend to stay in my hometown.
Q: You were an athlete is High School. How did you transition from that to singer/songwriter?
I've been an athlete all my life. I started playing football when I was seven or eight years old. I followed in my father and brothers footsteps. I've played every sport under the sun, but I always had an ear for music. As I got older, I started taking piano and guitar lessons. I started writing my own stuff around twelve years old. I really struggled for a while because I was trying to do the writing myself at just 12 years old. There are a few songs that really didn't work so I would recommend anybody looking to become a singer/songwriter to take songwriting guitar lessons Omaha so you start the way you mean to go on. In middle school, I would star in middle school cabarets and stuff like that. In high school, I got serious with sports. I got into physical, manly sports. I was the captain of the football and wrestling teams, but a sensitive songwriter. I had to put that on the back burner for a while..it sucked. Senior year was a big test for me. Brown and Dartmouth pursued me for football. Ultimately, I decided to go with my heart. I think I made the right decision..haven't looked back since.
Q: Was it tough setting off into the world of music?
I was lucky because I started out doing demos..that's how I was "discovered." A manager from Jive Records saw me when I was nineteen. He showed me the path of recording demos, to performing on Bleecker Street in New York City.
Q: What is your favorite part of performing live?
I LOVE showing my personality on stage…schmoozing with the audience. I love calling them out on funny stuff I see in the crowd. That's where my talent really shines. People come to a show to see a show..they want to buy into a personality and lifestyle. I show them who I am..I introduce myself so to speak.
Q: What is your favorite part of filming music videos?
I love being a part of the creative process. Obviously I have a director, but I like collaborating on the atmosphere and content of each video.
Q: Do you have a favorite song that you've written?
I do! It's called "Next Door Lover." It will be released with my upcoming EP on January 5th. The song recount how I met my girlfriend in New York City.
Q: What is your new single, "Are You My Girl", about?
It's about that point early on in a relationship, when you're deciding what to do. You either break it off, or get more serious. The inspiration for it was a past relationship.
Q: Pros and cons about being on the road?
Pros = Opportunity to play in front of people you haven't before. I can lure them into the Dan Godlin world. The more you play, the better you get. You can never stop getting better. Once in Pittsburgh, I had a heckler. I hadn't experienced that yet. He was drunk..I had to learn how to diffuse the situation to where I didn't come off as a jerk.
Cons = Being an opener, you might get to play a few songs, and that's it. It's generally an acoustic set, you can't bring a full band with you. The performance can't be as dynamic as you'd like it to be. A full band adds depth to your set. I'm an independent artist, so I drive myself everywhere. I also have to run my merchandise table. It's time consuming..you're doing a billion things, including social media.
Q: Are you excited about your show here in Baltimore opening for O-Town?
Of course! Here's the thing, out of all the dates I have with O-Town, Baltimore is the only town I've never played. It's my biggest challenge, but most exciting for me. The plan is to win as many people over as I can.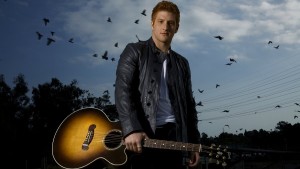 Dan Godlin opens for O-Town in Baltimore on January 11th!
Buy tickets HERE
Follow Dan on Twitter
'Like' Dan on Facebook
Visit Dan's Official Website
Check out Dan Godlin "Behind The Music" :