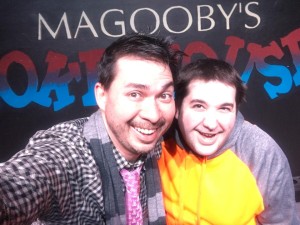 I chatted with comedian Kemo Hitaffer about his upcoming show at Magooby's!
Q: Where are your parents from?
My mom is from Japan..it's on the West Side. She's West Side, Japan! My dad is from Laurel, Maryland. My dad was in Vietnam stationed in Fukuoka . Top secret!
Q: How did you get into stand up?
I have no clue what I'm doing right now. If something good happens, I like to build on it. Two years ago, I was in a band called The Wasabi Brothers. We landed at 98 Rock one morning. Mickey pulled me aside and said "Have you ever thought of doing stand up, you're the only one talking." I came shortly after to see him at Magooby's and have been coming back ever since.
Q: What kind of music did you grow up on?
Iron Maiden, Poison..all the hair metal bands. At 18, I was listening to anything that would get me laid.
Q: What is your song "Here Another Day" about?
It's about my father. He died of lung cancer three years ago. It's his story. I wanted something to leave to my daughter when I'm not here anymore.
Q: What is your favorite music to listen to now?
Tons of One Direction. I love 5SOS. I got corrected by my daughter..I kept saying it wrong! She's a great singer actually. She's really into a B-side from Green Day called "She."
Marry, Fuck, Kill = Adele, Rihanna, and Taylor Swift
Adele, I would have to marry. She would keep me warm at night. When you get old, you get cold and go to the bathroom a lot. I'd fuck Taylor Swift. If a Kennedy's been there, it's like the Smithsonian. I'd like to see what's going on. Not a huge fan, but would have to kill Rihanna.
Q: You take a storytelling class here at Magooby's under Marc Unger. What is the best advice you've gotten so far?
Oh, he has tons of great advice. Last week he got me on looking up during my routine. I didn't remember my lines and swapped them. He's a hard ass, but a great director. 2016 will be a big year for him.
Q: Is he a good teacher?
He tells it like it is. If you want to take an easy class, go take a cooking class with your mom. The Marc Unger class on storytelling does not give out fucking gold stars, just put it that way!
Q: If you were a porn star what would your name be?
Johnny Marganza. I don't even know what the fuck a Marganza is.
Q: Are you a fan of anal?
Not a personal fan..but we'll just leave it at that!
Q: You're a dad of three kids..you're a comedian, singer, and a full time job. How do you balance it all?
You have to have someone that can take care of the farm. I'm a three legged chair without my wife. I keep a roof over here head, and she takes care of daddy.
Oh…I'm sure.
Not after that ::laughs:: She makes me use my Asian accent all the time. ::Kemo humps the chair doggy:: "Oh Dana..you so hawt..I fry you up like an egg roll! Here comes the fortune cookie..FORTUUUNE!"
Q: What is your favorite alcoholic beverage?
I love Pinot Noir.. a good Mad Dog 20/20 on a Thursday night. LOVE bourbon.
Q: If you could star in your own porno, what would it be called?
It would be a short film ::laughs:: It would be about three minutes long, and I would probably end up dropping the camera on my wife's face.
Which is why it's lucky Free maturepornvideos database opens its doors.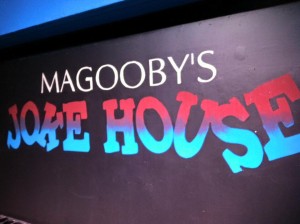 Kemo's show is December 27th at Magooby's Joke House at 3pm!
Follow Kemo on Twitter
Visit Kemo's Official Website