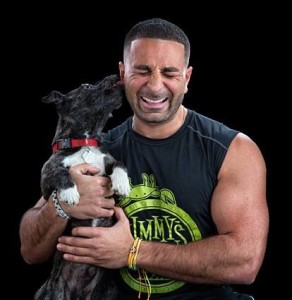 I sat down with John Minadakis recently. We talked about Jimmy's Famous Seafood and his upcoming appearance at Pawject Runway!
Q: What are your favorite memories growing up here at Jimmy's?
I lived in the apartment above the restaurant until around my 21st birthday. My friends would always come over on the weekends, because it was really cool living over a restaurant. We'd go across the street to the industrial park and play football. Come back home, have crab cakes and shrimp. People will come up to me weekly in here and reminisce about us wrestling upstairs, or playing Nintendo for hours. We have customers that have been coming here for decades at this point, and tell me stories about me riding my Big Wheels through the restaurant.
Q: What is your favorite dish at Jimmy's?
Believe it or not is the Oyster Soup, which I try to stay away from because it's fatty. The stuffed shrimp is great too. I find they're better than the crab cakes because you get the crab AND shrimp all in one.
Q: You have some pretty big bus trips coming up. Do you have a favorite bus trip and why?
If I had to pick one, it would have to be Ravens away games. At M&T Bank Stadium, they're accustomed to seeing the DJ's, the beer bongs, the ice luge..but when we roll into New York or New England they're amazed. It breaks the ice. When you get a win on the road, it makes you cherish the ride to and from even more. My favorite single trip would have to be the AFC Championship win against the Patriots. I could do this for forty more years, and nothing will ever come close to that feeling.
Q: How did you get involved with Show Your Soft Side? 
We love helping out the community as much as possible. I have so much respect for everyone involved. At first, I dabbled, but now I'm all in. It's a cause that everyone can agree that is neglected. Unfortunately in Baltimore, we got a bad rap a years ago. They needed guys that are tough to spread the word that hurting animals isn't okay.
Q: How fun was it walking down the runway with T.J. and the animals last year?
It was one of the best nights of my life. We knew at that point that Torrey wasn't coming back as a Raven. In the back of my mind I knew that would be one of the last times I could be with T.J. on a day-to-day basis. I was humbled to be a part of it. I doubt that will be his last trip down the runway. The kid has such a natural charm about him.

Pawject Runway takes place 5/13/16!
Buy tickets
Follow Jimmy's Seafood on Twitter
Visit Jimmy's Official Website