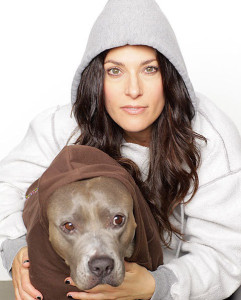 I chatted with Rebecca Corry about her comedy career and her charity, Stand Up For Pits
Q: When did you know you wanted to be a comedian?
Oh boy. ::laughs::  I have no idea. I started in comedy 24 years ago in Chicago. When I moved to Los Angeles 17 years ago, I did stand up for the first time and never stopped.
Q: How do you think comedy has changed over the past ten years?
Oh, people use the internet now.
Q: What is the hardest part of being on the road?
Finding a good salad. But as long as Angel is where I am, nothing is hard.
Q: How did you get involved with the Show Your Soft Side campaign?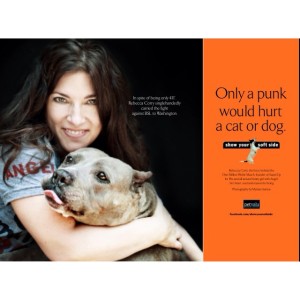 I organized the first March on Washington to help raise awareness about breed discrimination and dog fighting in 2014. It was an AMAZING experience. After the march, Sandra Reisette asked me to be part of the campaign. I'm honored to be a part of the SYSS campaign. It has a very honest message.
Q: Why did you start the Stand Up For Pits Foundation?
When you gain the knowledge that millions of innocent lives are being lost and the horrendous abuse happening. To have that knowledge and do NOTHING about it simply not an option. Angel is the inspiration for everything I do.
Q: Tell me more about your dog Angel.
She is perfect, loving, kind, funny, velvety, calm, smart, patient….the list goes on and on.
Q: Are you excited about your runway appearance at Pawject Runway and your Stand Up For Pits show at The Baltimore Comedy Factory?
Very, very excited! I absolutely love the people of Baltimore. I love the work BARCS and Show Your Soft Side does in the community. I'm thrilled the Comedy Factory is letting us have our event there!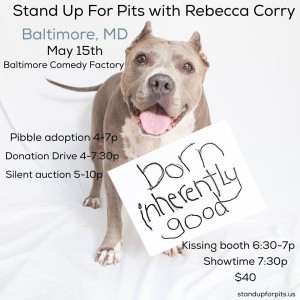 Rebecca is walking the catwalk at  Pawject Runway AND will be performing stand up benefiting Stand Up For Pits!
Emma Lou's Kitchen is an official sponsor of the Stand Up For Pits Foundation. To learn more about Emma Lou's go to www.emmalouskitchen.com
Buy Pawject Runway tickets
Buy Stand Up For Pits With Rebecca Cory tickets
Visit Stand Up For Pits Official Website
Follow Rebecca on Twitter
[follow_me]