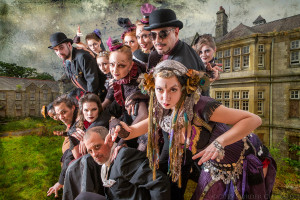 I spoke to John DiDonna from Phantasmagoria Orlando, which is headed to Baltimore March 17th-20th.
Q: Where are you from?
Originally I am from Brooklyn, NY so not to far from Baltimore (as the Raven flies). Been living in the Central Florida region for around 26 years now, and that is where Phantasmagoria was born.
Q: How did you come up with Phantasmagoria Orlando?
It goes back around 24 or so years with the idea of creating some sort of "Horror Circus" – but it was not until around 8 years ago that the ideas started to come together. The idea of a Victorian Circus that has existed since the dawn of man – that brings the works of horror literature, mythology, legend and folklore to life!
Q: What is the hardest part of putting on the show?
The many disparate elements pulling all together, from the stories to the puppets to the costumes to the aerial, fire, stage combat – tis indeed a circus! Also the continual creation of new stories. We never perform the same mainstage show twice and we are onto our 7th one now, and for our touring shows we had to go back into our history and pick the best ones. We are bringing "Wicked Little Tales" to Baltimore (our first touring show) and we premier our new touring show at the Orlando International Fringe Festival this summer. For Baltimore we wanted to add in a special surprise, so we have actually added in a new story from our history, as well as reworking some of the dances.
Q: What is your favorite aspect of the show?
One cannot exist without the other! When I am designing and making the puppets – that is my favorite. When we are in story/acting rehearsals – that is my favorite. Dance rehearsals the same. But overall the favorite aspect is creating this unique little world we all get to play in 12 months a year.
Q: What has been the response to the show over the years?
Thankfully amazingly positive. We have developed a truly loving following that we keep in very close touch with, and the support from both critics and audience makes us very grateful. To be called by Good Morning Atlanta "one of the most unique theater troupes in the nation" sort of took our breath away.
Q: Why did you decide to take the show on the road?
So many reasons. To be true to the idea of a traveling circus. But also to explore, to test, to reach new audiences and share our stories!
Q: Is it your goal to scare people, or entertain them?
Yes. Hah! Actually it is also to create whimsy. We have horrific elements, we have comedy elements, we have whimsical elements. I think it is just to engage that audience with the idea of STORY – that is the ultimate goal, and to share that with them.
Q: Are you excited for the reaction to Poe's "The Raven" in your show? He did die here in Baltimore…
Oh yes. The Raven is one of the first stories we ever did years ago. Our take on it is unique, and we love Poe. Every year we do a different Poe story in our main stage productions – it would not be the same show without his energy in it.
Q: Are you looking forward to your engagement here in Baltimore?
Very much. I love Maryland and used to spend summers and holidays there, so I predict some amazing side trips and also just EXPLORING Baltimore! Cannot wait. And it is a perfect place for us to be. The theater itself we are going to – Baltimore Theatre Project – is amazing and has a great history. Just to breathe that air will be wonderful!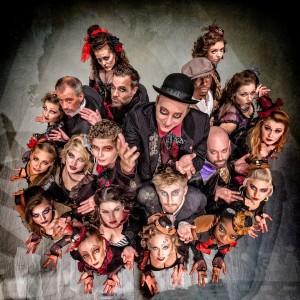 Phantasmagoria Orlando will invade Baltimore March 17th – 20th at The Baltimore Theatre Project.
Visiti Phantasmagoria's Official Website