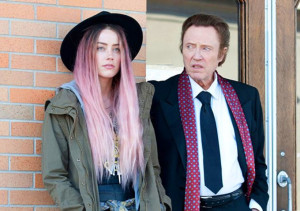 I chatted with Robert Edwards, Director of  "One More Time", about the film and the Annapolis Film Festival.
Q: Where did you grow up?
I was an army brat, so I was constantly on the move.
Q: What inspired you to become a director?
I've been fascinated by film since I was a kid.  I went to film school, where I started in documentaries. I transitioned into feature films eventually.
Q: Which is harder — documentaries or narratives?
Each can be challenging in their own way. With a documentary, you're at the mercy of your characters. My wife and I made a documentary about sumo wrestlers. THEY drove the train. We just sat back and went along for the ride. In fiction, it's the other way around..you have total control.
Q: What is your favorite film of all time and why?
Ohhh..that's a tough one. "Repo Man" by Alex Cox.  It's a weird, crazy balls out moves that breaks all the rules.
Q: What is your new film "One More Time" about?
It's about a retired Frank Sinatra type, played by Chris Walken, at the end of his career in the Hamptons. He's feeling bad about his life and career..it didn't turn out the way he wanted. The film also takes a look at this relationships with his daughters. One is Type A, the other has inherited all the power and is self destructive.
Q: Were there any inspirations for any of the characters?
I originally wrote it because I wanted to explore the idea that a public performer is at odds with his public persona and who he really is. Frank Sinatra wrote and performed magical, romantic songs..but in real life he was a pretty miserable guy.
Q: What was it like working with Christopher Walken and the rest of the cast?
Chris Walken is an icon. He's been in over 120 movies. His career speaks for itself. It was an honor to witness his process and how he approached his role. There's an entire generation that hasn't experienced his brilliance on screen. He won an Oscar for "The Deer Hunter", which is probably one of the least funniest movies you'll ever see. We get to see both sides of him in this film.
Q: What is your favorite part of film festivals.
The free booze!
Q: Are you excited about attending and showcasing your film at The Annapolis Film Festival?
Very excited! It's really an honor to participate.
"One More Time" screens at The Annapolis Film Festival TONIGHT!
Annapolis Film Festival Schedule + Ticket Info
Follow The Annapolis Film Festival on Twitter