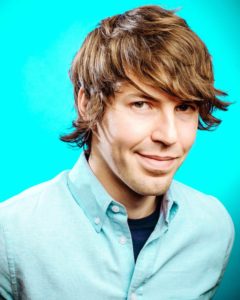 Q: Where were you born?

Washington DC. But, I was raised on the eastern shore of Maryland – Kent Island to be exact.

Q: Were you a funny kid growing up? When did you know you wanted to be a comedian?
I thought I was funny growing up, but the other day my Dad sincerely said to me "I was thinking about this…and I asked myself…when did Josh get funny? Because he wasn't funny as a kid. So, when did this happen? When did he get funny?" And he had a genuinely perplexed look on his face, like he was thinking about how to close tax loopholes or something.
I told him that's probably the reason I'm a comedian!
But, I'd say around middle school I joked around w/ my friends a lot and did dumb stuff. That continues today. I always thought my friends were hilarious.
I started doing improv about 5 years ago and then met some stand ups. I eventually did an open mic about 3 years ago and haven't stopped since.

Q: What is your favorite thing about Baltimore?
My favorite thing about Baltimore is how close knit the arts community is here. I love the overlap too. I'm friends w/ musicians, artists, and other comedians. I love it. It's inspiring because they're so talented and you can see up close that it's possible to challenge yourself and do great shit in Baltimore and beyond. Seeing Jenn and Andy from Wye Oak play a sold out show w/ the BSO was amazing. Seeing Future Islands blow the fuck up was nuts. I saw a guy I did open mics w/, Randy Syphax, do the Tonight Show this year. And even though he's a DC guy primarily, my friend Jamel Johnson just did Kevin Hart's new show on Comedy Central and opened a show for Louis CK at the Lincon Theatre a few weeks ago. And then you see these people around town. I love it. It's fucking great.

Q: Favorite comedian?
My favorite comedian is either Bill Burr or Louis CK. I have a thing for the middle aged red head dudes, apparently. I'd have to go w/ Louis CK right now. I just saw him at the Lincoln Theatre, where my friend Jamel Johnson opened the show, and he was incredible. Louis is just at that samurai / wizard level of comedy. He leaves nothing on the bone and explores a topic so thoroughly. And it could be about horrible stuff, but it's still amazing. He did 3 bits in a row that went from how much he came in his wife when he got his wife pregnant, how dumb people look when they're beheaded, to justifying why someone ran over a little girl while texting. All dark / risky topics, but he handled them like a master.

Q: What is the best part of being a part of the Baltimore/DC comedy scene?
I kind of alluded to this earlier, but the sense of community is phenomenal. DC just had it's first 202 Comedy Festival which featured over 100 comedians from the area and I was lucky enough to be a part of it. It was a blast.
All the comedians in the area are like coworkers, but they're hilarious. And I think we all root for each other too, especially when we're busting balls.
Q: Talk a little about the Digression Sessions Podcast.

The Digression Sessions podcast started in September of 2011 w/ my cohost and fellow comedian Mike Moran. We both loved podcasts and decided why not start our own. I already had the equipment, so we said fuck it and started our own comedy podcast. It's available on iTunes and Stitcher, and we're proud members of the Thunder Grunt podcast network.
At first we interviewed only other local comedians and improvisers, but by chance, about 2 years ago we got to interview Patton Oswalt at Common Ground Cafe in Hampden. And that blew it wide open. Since then we've been able to interview bigger names like Tom Arnold, Brian Huskey, David Koechner, & Matt Walsh.
It's been great doing the podcast, man. I love talking to people and if we don't have a guest, it's cool to catch up w/ my buddy Mike Moran. Also, it's a great way to get to know other comedians, musicians, writers, etc.
Q: OK..be honest. Do you REALLY enjoy co-hosting with Mike Moran?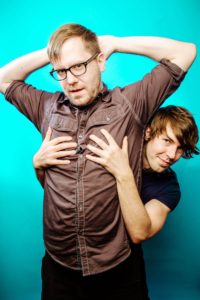 Haha yes, I do. He's like my brother. And sometimes we'll argue, but that shit happens. ESPECIALLY BECAUSE MORAN IS A JERK. I kid, I'm glad we can talk about serious topics like depression and problems w/ our families to doing the silliest stuff w/ him on the podcast like sampling baby formula that was accidentally delivered to my house recently.
I love that guy.
Q: Are you excited to be opening for Kurt this weekend at the Creative Alliance?
Fuck yes, I'm excited. Kurt is super funny and original. I remember seeing a piece on him on a series called Modern Comedian where he would alter or make his own greeting cards and put them back in shops for people to find. He wouldn't even see their reactions, he was just doing it for the potential of laughs. And recently he rode a jet ski down the Mississipi for charity.
He's an exciting comedian because he tries do different stuff like that. And he started out here in Baltimore doing improv, which is near and dear to my heart.
Creative Alliance is an awesome independent venue too. One of my favorites in Baltimore.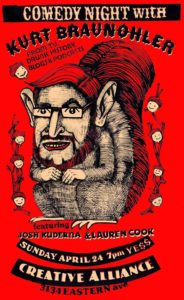 Josh opens for Kurt Braunohler this Sunday at the Creative Alliance!
Follow Josh on Twitter