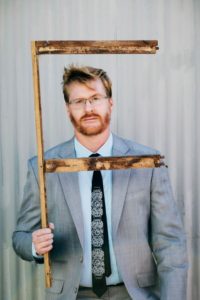 Q: Where you born?
In Michigan, but my parents and I moved  to New Jersey shortly thereafter.
Q: When did you know you wanted to be a comedian?
It was a gradual thing. I moved to New York City in 1998, from Baltimore actually, and founded the Upright Citizens Brigade Theatre.
Q: Do you prefer to perform in front of a bigger or smaller audience?
I think they both have their advantages.  I would say two hundred to hundred and fifty people is my magic number.
Q: Your bio reads that you used to live in Baltimore. What area and how did you like it?
I lived in Charles Village. And it was fucking weird and great. I loved every second of it. I have a lot of fond memories from Charm City.
Q: How do you think comedy has changed in the past decade?
That's an interesting question. I would say podcasts and YouTube. Those formats are much more comedy savvy. They definitely have changed the game in a big way.
Q: Are you excited about your show this weekend at the Creative Alliance?
Oh yeah! It's going to be soo fun! My wife will be telling a story at the top of the show. I'm excited to be back in Charm City!
You do know there's a Wine Festival a few blocks away that's ending an hour before your show..right? You'll have some..interesting audience members possibly.
Wouldn't expect anything else from Baltimore!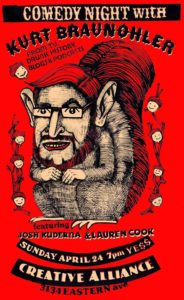 Kurt headlines the Creative Alliance this Sunday!
Follow Kurt on Twitter