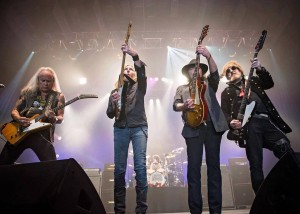 Lynyrd Skynyrd
Thursday, June 16
Doors 7:30pm
Show 6:00pm
$39.50 – $99.50
ON SALE: Friday, April 8 @ 10am
TICKETS:
Rams Head On Stage Box Office at 33 West Street, Annapolis, MD (410) 268-4545
The legacy began some 41 years ago in Jacksonville, Florida, and halted for a decade by the 1977 plane crash that killed three band members, including Ronnie Van Zant and Steve Gaines. Since then, the band tragically lost Allen Collins, Leon Wilkeson and Huey Thomasson, yet Lynyrd Skynyrd rocks on with original member Gary Rossington joined by Johnny Van Zant, Rickey Medlock, Mark "Sparky" Matejka, Michael Cartellone, Johnny Colt, Peter Keys, Dale Krantz Rossington and Carol Chase.
With a catalog of over 60 albums, sales beyond 30 million worldwide and their beloved classic American rock anthem "Sweet Home Alabama" having over two million downloaded ringtones, Rock & Roll Hall of Famers Lynyrd Skynyrd remains a cultural icon that appeals to all generations.
www.facebook.com/LynyrdSkynyrd
2016 Pier Six Calendar
04/30 – Fantasia & – Anthony Hamilton
05/07 – BOSTON 40th Anniversary
06/03 & 04 – The Avett Brothers
06/05 – Anthony Hamilton & Fantasia (2nd Show Added)
06/16 – Lynyrd Skynyrd
06/17 – Rebelution w. Through The Roots, Stick Figure, The Green, J Boog
06/26 – Barenaked Ladies w. OMD, Howard Jones
06/28 – AWOLNATION w. Death From Above, Irontom
07/07 – Sublime w. Rome
07/15 – Umphrey's McGee
07/24 – Walk The Moon
07/29 – Dark Star Orchestra w. The Bridge
08/12 – Shawn Mendes
08/21 – Slightly Stoopid
08/24 – Bonnie Raitt
08/27 – 2nd Annual Wounded Warrior Benefit Concert feat. Crack The Sky, The Ravyns, Dave DeMarco Band, Midnite Run