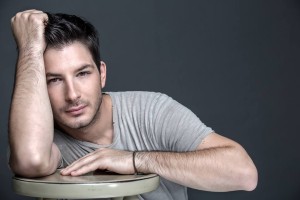 I had a great conversation with singer George Perris about his career and life in Greece.
Q: What is your favorite part of growing up in Greece?
I love being able to collect sea shells from the bottom of the sea and having them all around the house. The smell of fresh fruits and vegetables are exhilarating. And of course the people I care about most.
Q: At what age did you realize you had the gift of such an incredible voice?
I knew that I wanted to sing..I HAD to sing. I said that to my mom at four years old actually. I remember she said "Sure, now go tidy up your room now and we'll talk about that later." ::laughs:: Music was my first expression..so I say that music chose ME. My parents went through a brutal divorce when I was four. Music was my only real outlet.
Q: What is your favorite part of performing live?
It's the reason why I breathe. A magical connection happens when you're on stage. I have the chance to communicate with hundreds, or thousands of people through my lyrics. I lose my insecurities when I'm on that stage. I am the king of my stage.
Q: What was your reaction you were going to be recording in Capitol Studios in Los Angeles?
Oh gosh..I'll never forget that! When they told me, I turned around and yelled "WHAT?!!" When they finally booked the date, I was jumping up and down like a five a year old kid who dived in a pool of candy. They had mics that had been used by Elton John, Diana Ross, Frank Sinatra, and Ella Fitzgerald. I'm happy to say that I had the honor of using two of them.
Q: What is your favorite song off of your album "Picture This?"
I know it's a cliche but I love all of them. It took me two years to record this album. We heard a good three or four hundred songs before we whittled them down to the thirteen on the album. I genuinely love them all. I have a soft spot for the song "Broken Vow", which was written by good friend Lara Fabian. It hits a very personal note in my heart and my soul.
I LOVE your cover version of "Why" by Annie Lennox
Wow, thank you! That is one of my favorite songs of all time.
Q: Do you have a favorite venue that you've performed in?
So many!  Jazz at Lincoln Center was one of the best moments of my life. Singing the National Anthem at Madison Square Garden was a moment I will NEVER forget. I had the honor of singing at the Odeon of Herodes Atticus, which is located on the Acropolis of Athens as well.
Q: What was it like filming a concert special for PBS?
Oh my gosh! It was the concert I did at Lincoln Center. The backdrop of the theater isn't a black wall, it's clear glass with a view of Central Park. The night before the concert, we had a huge snowstorm. So when we filmed it was really beautiful. I wasn't familiar with the concept of public television being from Europe. It shows the tight bond American has within itself. And that is EXTREMELY admirable and important. There haven't been many Greek artists featured on PBS. I feel humbled to be given the opportunity.
Q: Why did you get involved with the Horatio Alger Foundation?
They offer scholarships to young students who come from a very difficult childhood. Whether it be abuse, or poverty..any kind of difficult situation. They believe that with these scholarships, they can find themselves, and fulfill their dreams. Children ARE the future, and if we don't invest in them, then there's no way this Earth will move forward. I'm extremely proud to be an ambassador for them.
Q: What artist would you like to duet with and why?
All of them? ::laughs:: Barbara Streisand is the empress  of the queen..the top of the top. Bruce Springsteen is one of my idols. Sting! Freddie Mercury! Adele! Ed Sheeran!They don't count since they're not American.
They can count this time..
There are SO MANY. Ella Fitzgerald is one of my ultimate dreams.
Q: Are you excited about your tour stop here in Maryland?
Very VERY excited. This is my first North American tour, so it brings the excitement to a whole new level. It brings terror to my soul as well..I'm not used to doing smaller venues. The intimacy is more intense. You ALWAYS give 100%, but when the audience is right in front of you..it's a little more scary. I'm just a boy from Greece..a  kid who had a dream. The fact that I'm able to tour the United States is a dream come true.

George Perris swings through Annapolis on 4/29!
Buy tickets
Follow George on Twitter
The Horatio Alger Associations Official Website