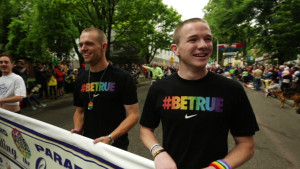 I chatted with Matt Thomas about his film "Out To Win", and the Annapolis Film Festival
Q: Where did you grow up?
I grew up on the Canadian prairies and Vancouver Island.
Q: What is "Out To Win" about?
"Out To Win" chronicles the history and personal struggle of gay and lesbian athletes in professional sports.
Q: Was it hard getting sports figures to speak to you about their experiences coming out?
We partnered early on with Cyd Zeigler, the founder of Outsports which is the world's leading website that covers everything LGBT and sports. With his connections and Out To Win's director Malcolm Ingram's award-winning success with previous films on the LGBT community (Small Town Gay Bar, Bear Nation, Continental) we reached out to athletes and organizations, told them what our goal was and pieced together the film interview by interview with each subject leading us to new people and new opportunities. The whole process went very fast, we finished the film in less than 10 months from our first day of shooting.
Q: Which story was hardest to hear?
There are a lot of moments that are hard for me to hear, we were very lucky to have people open up to Malcolm. Hearing NFL pioneer David Kopay talk about losing his first and only love in Vietnam, hearing MLB's Billy Bean talk about not being able to attend his partners funeral because he was so afraid and still in the closet and college athlete Chandler Whitney talking about his suicide attempt are probably the hardest moments for me to watch but also the most moving.
Q: What has been the response to the film?
The response both in and out of the LGBT community has been great. We have been able to play at some amazing festivals including SXSW, Hot Docs and AFI Docs and have had some amazing, huge screenings including centrepiece, closing or opening night galas at LGBT Film Festivals in London, Miami, Los Angeles and San Francisco where we got a 5 minute standing ovation. It has been a great time touring the festival circuit with this film. We even screened again in San Francisco inside the 49ers stadium which was the first LGBT event ever officially held by and sponsored by an NFL team.
Q: What was it like seeing the film for the first time?
It was an amazing experience screening the film in Austin, Texas at SXSW for our world premiere. We had lots of guests from the documentary on hand and they were all very moved by the final product. Plus Austin has great BBQ and dive bars which doesn't hurt.
Q: Are you excited about showcasing your film at The Annapolis Film Festival?
Of course! We can't wait to share the stories of some truly groundbreaking pioneers with Annapolis audiences.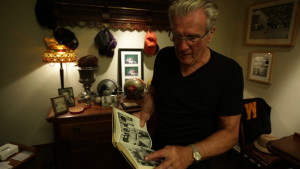 "Out To Win" is screening at The Annapolis Film Festival Saturday morning!
Buy tickets