I chatted with Tim from Boy & Bear about the music industry and about their new music.

Q: How did Boy & Bear form?
We all went to university together and were playing in different bands. Gradually we started to write songs together and it just worked.

Q: Who inspired you musically growing up?
I was really in to folk music like Simon and Garfunkel, Crosby stills and Nash etc… Peter Gabriel was a big influence

Q: In your opinion, what's the hardest thing about being in the music industry?
I think knowing where to start and how to get noticed is really tough. As a young band it's hard to know how to make a career out of music. We found that tough. I suppose there are heaps of challenges but getting started is probably the toughest
Q: Do you have a favorite venue (anywhere) that you've performed and why?
I love playing the Commodore Ballroom in Vancouver. It's a beautiful room and great sound and has a pretty amazing history.
Q: Do you have a favorite song that you've written?
I think "Just Dumb", which is the second last track off our latest record would be my favorite.

Q: What is your song "Walk The Wire" about?
It's a love song but verging on the cheesy superficial side of love..the initial stage. This was intentional. We wanted to capture that slightly naive romantic notion of a first meeting from a boys perspective
Q: What was it like shooting the music video for "Walk The Wire?"
We had a blast shooting this clip. Often videos are too serious and a real drag, but this was a load of fun to make.
Q: How hard is it being on the road months at a time?

It can be really hard. But if you look after yourself, get enough sleep, exercise, and try not too get hammered all the time, and respect other touring party members, it can be pretty fun too!
Q: Are you excited about your concert at First Thursdays in Baltimore?
Absolutely. We can't wait. It should be amazing. Hopefully the jet lag will have worn off by then!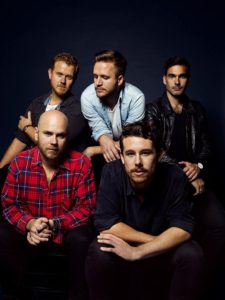 Boy & Bead headline WTMD's First Thursday Concert Series for June!
Follow Boy & Bear on Twitter
Visit their Official Website