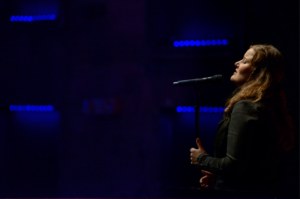 Q: Who influenced you musically?
My dad was in a folk band years ago. He could play a number of instruments. Their album covers looked like something out of "A Mighty Wind." He got me loving music, and singing many different genres. He made me understand that music should be self-generated. Other influences include Dolly Parton, Ella Fitzgerald, John Lennon, Joni Mitchell..you can sense a pattern there. Autobiographical songwriters. That's the path I walk on.
Q: What song of yours is your favorite?
That's impossible to answer! They're all like little children. If I had to choose, it would be one of the more artistic ones. "Hush, Hush, Hush" or "Red Corset."
Q: What do your fans mean to you?
They're love. They're my heart..my oxygen. I can't do this on my own. I don't take for granted that when people come see my live, they're leaving the comforts of their own homes. Each show is like a family reunion!
Q: What was it like winning the Grammy for Best New Artist?
There was a lot of attention on me that year. It was a very stressful evening. ::laughs:: I was ill prepared..it's like winning the lottery. In the grand scheme of things, you try to stay humble. Some of the greatest musicians haven't received anything.
Q: Your album, "This Fire", is turning twenty this year. What are you doing to commemorate that milestone?
We're playing the entire album on this tour. I remember recording that album in a day and a half. Some of those songs I haven't played since it came out. I'm sure everyone coming out is grateful I still have a voice ::laughs:: The songs still stand up with time. To this day, I don't think there's been anything like "Where Have All The Cowboys Gone?"
Q: What does it take to last in the music industry today?
My philosophy is "Those who do not embrace change, perish." I've had a pre-internet and post internet career. Worse, I became a mother with a seven and a half year hiatus while our world was being transformed with digital distribution. You MUST be smart and humble because times are-a-changin'. We don't receive the same royalties that we used to. So it's harder to get by. You must be willing to swallow humble pie and play smaller venues.
Q: How hard is it juggling being a mom, your career, and touring?
What a balancing act! It's not easy. My music life comes second to my personal life. I sometimes feel guilty that I'm not home more. I gave my daughter seven years of just being home with her. The Grammy's crystalized that..career wise I was bright and shiny. But on the inside I was unhappy. The next time I'm invited back, I'll be more happy go lucky!
Q: Did you ever find your John Wayne?
::laughs:: Yes, but not the conventional one!
Q: Your song "I Don't Want To Wait" is a song that a lot of people my age grew up on via "Dawson's Creek." How does it feel knowing that one of your songs is stapled in pop culture?
It's so interesting for me. The song was my second single, and was number one on a few formats. Then it started to get quieter, and then I receded into motherhood. Your music gets used for this and that..it's not a big deal usually. This was such a big deal that I feel like it usurped my career in a way. One of the canaries in the coal mine back then was your song being married to a television show. Initially, there was a lot of criticism from my generation. However now, it's a very accepted format. I find millenials LOVE it. What I thought of once as a negative, turned out to be a positive. The song has reached out to a new generation who continues to give it love.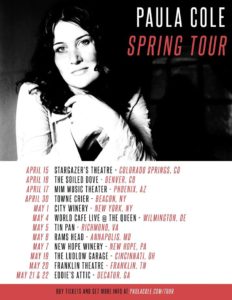 Paula headlines Rams Head On Stage this Friday!
Visit Paula's Official Website
Follow Paula on Twitter