I sat down with Sam and Josh from Gotham Theory recently..and well, we had a good time. Check it out!
Q: What is your favorite instrument to play?
Sam: The drums of course. I'm forced to play guitar on the side for extra money
Q: What is your favorite cover song to play?
Josh: I would have to say "Use Me" by Bill Withers. It has a really good groove.
Q: What is your favorite song off your CD "Why'd You Break Up With Me?"

Sam: Dude, they're all my kids..
Josh: "Stepping Out." That one came together pretty quickly. There's a..hidden message in that song. I love it because it has such a unique chorus.
Q: How tough is it for local musicians out there today?
Sam: We don't have a manager, we do all of our promotions, social media, sell our own tickets..it's tough. We're constantly trying to make a good rapport with people like you, who will interview us and help get the word out about our music. This isn't our main bread and butter either. We go home, and switch off the Gotham Theory part of our brain.
Josh: It's getting people interested in what you're doing. It's tricky, but it can be fun.
Q: What is the craziest thing you've ever done?
Sam: My mom is probably going to read this, so I'll plead the fifth.
Josh: I will admit that I'm not too crazy of a guy, and a bit of a rule follower. You should ask our guitarist, Zack, at the show. He's the wild child of the group. I think one time as a kid he jumped out of a tree and snapped a bunch of ligaments in his legs. That could be made up though ::laughs:: 
Q: What is your favorite part of the Maryland music scene?
 Sam: There's such comradery We've received endless support from other musicians in the past. It's not like that everywhere else.
Josh: I love the fact that on any given night, you can go to certain spots in the city..especially the bars in Fells Point! You can hear really talented performers. There are so many great acts out there, putting time and effort into their craft to entertain people. That has to be my favorite part hands down.
Q: Are you excited to perform at The Henchmen's Red Carpet Release Party this Friday?
Sam: Kevin Hock is one of the cool people who has done so much for the music industry around here. We're grateful he was kind enough to put us on the bill.
Josh: Absolutely! We've played with The Henchmen before, so it's going to be fun playing with them again. The other bands have some unique sounds, so it will be cool to play with them for the first time!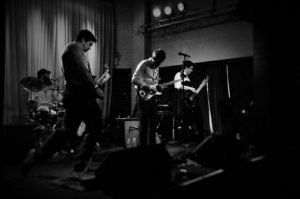 Gotham Theory is on the bill at this weeks Red Carpet Release Party for The Henchmen!
Follow Gotham Theory on Twitter
'Like' them on Facebook
Visit their Official Website