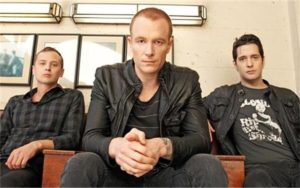 I spoke with Max from Eve 6 about their music legacy and their current North American tour.
Q: How did Eve 6 get their name?
We were still in High School at the time, and making our first record. Our drummer was a huge "X-Files" dork. He had the first few seasons in his collection, so we would watch an episode after rehearsal. The "Eve" episode was about a government clone who goes extra mad, and ends up in an insane asylum.
Q: What have you learned about yourself since Eve 6 has been together?
Oh man, lots of things. I've grown up in this band. It's an exercise in looking past peoples faults, and hoping they do the same with your own. Not that we're hard to get along with of course!
Q: How does it feel knowing that "Here's To The Night" has become an anthem for a generation?
It's really cool. We wrote the song as a bittersweet emotion to a one night stand, which under different circumstances wouldn't be a one night stand. So you could say the song has taken on a different meaning to different people.
Q: What does it take to last in the music industry?
For us, we were lucky to have enough resources put behind us, that we were able to tour a bunch of times, and develop a following. So we're fortunate to have a loyal fan base. We tour and make new music for the right reasons..sorry to sound cliche there. We enjoy playing, and get along well. We don't have to have a hit single, we're doing it because we love it.
Q: What has changed the most for you in the last ten years?
Getting sober..lots of personal milestones. Becoming a dad a few years ago was more profound than words can describe. It's one of those things I didn't know I wanted until she was in my arms for the first time.
Q: Are you excited about your show here at Baltimore Soundstage?
Always! Baltimore has been so good to us through the years. We have such an awesome fan base there. I expect to see  a lot of familiar faces in the front row.

Eve 6 headlines Baltimore Soundstage this Sunday!
Follow Eve 6 on Twitter
'Like' Eve 6 on Facebook