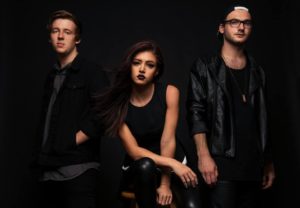 I sat down with Will & Dan from Against The Current at their Warped Tour stop at Merriweather Post Pavilion, where we discussed their music and the insanity that is the Warped Tour.
Q: How did Against The Current form?
Will: Dan and I formed the band in early 2011. We were always getting new bands together, but we were missing something. We eventually met Chrissy about five years ago through a friend. They went to the School Of Rock. At that point, we hit the ground running.
Q: What is your favorite song of yours and why?
Dan: Roses. Interesting lyrics. We haven't recorded everything like that.
Will: "Roses" is nostalgic for me, but I'm going with "One More Weekend." It's super fun. It has a really cool sound.
Q: What is the hardest part of the industry in your opinion?
Will: The hardest is breaking in the US. YouTube is a bigger elsewhere in the world for promoting. So the trick is playing as many shows as possible here.
Q: Who do you look up to musically?
Dan: The bands that made me pick up a guitar was Green Day and Blink 182 for sure.
Will: I grew up on a 90's rock. Counting Crows, Dave Matthews Band.
Q: How have you grown since your first EP?
Will: We've matured as songwriters for sure. Our first EP was songs that we were sitting on for a few years. "Gravity" was a little different. We linked up with Tommy English, who is an incredible songwriter and producer. We learned so much from him. We recorded a song a day. For the album, we had about forty songs we played around with in the studio.
Q: Where do you see your place in the industry?
Dan: We're Pop-Alternative. There's a little bit for everybody.
Q: Pros and cons of touring?
Will: Pros would be being able to meet fans every night, and of course playing our stuff for them.
Dan: Cons would be getting sick for sure.
Will: You have to be ready for not being able to shower at the same time everyday, going to bed at different times..
Dan: Don't forget the ever changing weather!
Q: What has it been like so far on the Vans Warped Tour?
Will: It's something we've always wanted to do. It's a one of a kind tour. It's a good test for us before we embark on our upcoming six month tour to promote the new record.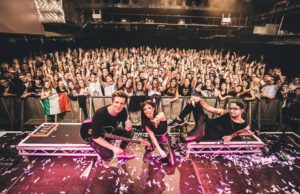 You can check Against The Current on the Vans Warped Tour until August 13th. Buy tickets
'Like' Against The Current on Facebook
Follow Against The Current on YouTube
Visit their Official Website