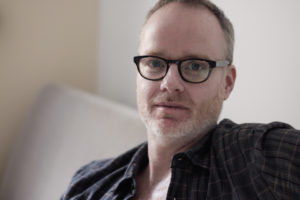 I chatted with Director/Writer/Producer of the film "Akron", which will be screened during Rainbow Fest at the Creative Alliance this week.
Q: Where are you from?
Akron, Ohio.
Now it ALL makes sense!
::both laugh::
Q: What is the movie about?
The film is about two young college freshman, who fall in love in Akron. They begin a relationship with support from their family and friends, but they soon both learn of a tragic secret event in their pasts that involved their mothers. It's a film about forgiveness and loyalty..the struggle between finding individual love and love for your family.
Q: What has been the response so far?
We've been lucky, it's been terrific! We've been playing a lot of festivals, both LGBT and general ones. We feel the movie speaks to a wide audience.
Q: What was the hardest part of making this film?
As a filmmaker, you see challenges everyday. At first, it was fundraising. The Kickstarter campaign was frustrating to say the least. However, it was remarkable how many things went right. Going back after 25 year with a film about two gay men falling in love, the community was incredibly supportive. People were offering cars, their homes, their businesses for us to film in. It perhaps could've been difficult, but it wasn't. It shows progressiveness, and shows peoples better angles.
Q: What was it like working with Edmund and Matthew? Were you happy with their performances?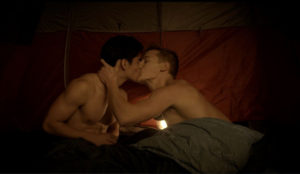 They were fantastic. Both are incredibly professional, talented, and focused. They brought intelligent questions to the table as well. They understood the characters and themes very well. Both were spontaneous as well, which kept the professionalism very high. They really invested their souls into their roles.
Q: What do you hope people take away from the film?
I hope they're moved. They laugh. They can relate to the characters. On a larger scale, it's nice to know people have different views of LGBT people. When we were in Cincinnati, one of the ushers, a straight woman in her fifties, came up to me and told me she had never seen a gay film in her life.  "Do the boys end up together?" Some of the best questions I've ever gotten. People get invested in these characters!
Q: Are you excited about your screening here at Rainbow Fest?
I am! From what I understand, it's a smaller communal screening space. Should be a great conversation of shared experiences after!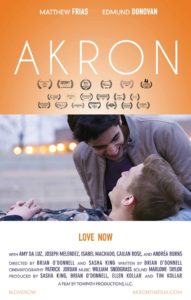 "Akron" screens Friday at The Creative Alliance's Rainbow Fest!
Follow the film on Twitter
'Like' the film on Facebook
Visit the films Official Website