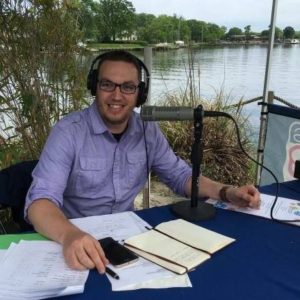 I chatted with Steve Clendenin about his career  in radio, and his new venture, The Maryland News Network
Q: Where were you born?
Havre De Grace. The ACTUAL hometown of Cal Ripken, Jr. He was born at the same hospital I was. Some people say Abingdon, but that's where he lived. We get into fights about that in Harford County!
Q: When did you become interested in radio?
1995. I had this little tape recorder, where I would record music, but talk over top of the audio. I kept harassing Stash when he was on 98 Rock. He finally broke down and told my brother and I to come to TV Hill. So we checked out 98 Rock, and I fell in love with it. Since I lived in Harford County, he told me to contact WXZY for an internship. I was 12 at the time. They told me I was too young. So I went to a little AM station in the corn field, WAMD. I ended up dubbing records on to cards for them, cataloging music, ran the board for Orioles baseball.
My very first shift was on air at midnight. At this point I was 14, so that was highly illegal. My first song on air was "Rock Around The Clock", which had came out thirty years before I was even born.
Q: What is your favorite thing about radio?
I love that you don't know who your customers are. If you work at a restaurant, you might have one hundred people to wait on. When you're on the radio, you have a microphone, and your thoughts. You can say the worst thing in the world, and two million people might hear it. Or, you could say the best thing in the world, and two million people might hear it.
The second best thing would be staying close with your communities. Unfortunately, local radio REALLY shines in disasters. So when there's a hurricane, tornado, or a storm coming, people come to you. They call you up and tell you how much snow is in their yard..stuff like that.
Q: So what happened with the FCC..IF you can talk about it.
Ahh, the FCC. I was operating a station in my garage for a year and a half. Bay Rock 101.5. It only covered a block at first, but then I bought a booster. Then it covered Bel Air to Kent County, and North East to Aberdeen. We broke new music from Friday until Sunday night. We did a live morning show as well. My dad once found me in the garage early one Saturday morning as he was going to work, and asked "Are you on speed, son?"
We were at a festival at Tidings Park once,  and WXTY saw us broadcasting longer than they were. A week later, the FCC showed up. I remember it was one Sunday morning, and I was in the shower doing my thing. My dad knocks on the door and says "The FAA is here." I thought to myself "I don't have a plane..OH NO it's the FCC!" I look outside and there's a black Ford Explorer parked in the driveway. They come in, and they have a thick folder, so they've been listening for a while. My first question was "Did you like the station?" They laughed, but didn't answer. So I figured they liked it. They searched the garage, but luckily the booster wasn't on. They still sent me a cease and desist letter. Being the smart ass I am, I just ended up changing frequencies to 97.5.
One day my dad was in the driveway playing on his car radio and he went by 98 Rock, then heard my voice on 97.5. Next thing I know, he comes in the garage saying ever F word imaginable and grounds me.
::both laugh hysterically::
Q: What is your new project?
My new project is the Maryland News Network. We're the 31st Statewide news network servicing stations throughout the state of Maryland. We'll be providing news content from 6am – 7pm, all Maryland content. We'll have hourly news, a sports wrap, a market wrap which features Maryland businesses. We're also going to have several public affairs that will launch on the weekend. Our reach will be in all 24 counties in the state.
Q: Are you excited?
This has been the biggest professional challenge of my career. Staffing, working with each individual station, trying to figure out what works for them. I love working in small market radio because you can touch peoples lives. I'm excited, but anxious to get it going, and making sure it's done correctly.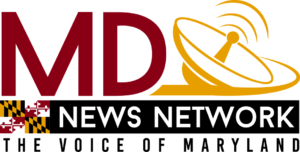 The Maryland News Network has launched!
Visit their Official Website
'Like' them on Facebook
Follow them on Twitter
Follow Steve on Twitter