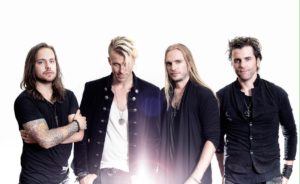 I chatted with Jonny from Art Of Dying about their upcoming tour and  life on the road.
Q: How did the band form?
I founded Art of Dying in 2003 when my writing and music started to evolve from what i was doing in SunLikeStar. I eventually met Tavis and Cale in 2007 in Toronto at Canadian Music Week. They were playing in a band called Thornley. And Cody, our long time stage manager and tech jumped in the drum throne this year when Jeff Brown left the band.

Q: What is the hardest part of being on the road?
Finding your rhythm. It's hard to be balanced/get balanced out there. It's kind of like what I imagine astronauts have to go through on a smaller scale. We always come home needing a lot of decompressing and readjustment back into our lives.
Q: Is there a meaning behind the band name?
It comes from the longer sentence "The art of dying is my life to live" that recognizes that our time here is precious – each day is a day toward our eventual end, so being here is kind of amazing and important.
Q: How is the songwriting process for you guys? Do you collaborate or does one take the lead?
I write a lot and bring almost all of my ideas to the band. Cale and Tavis write a lot too and bring ideas to me. We jam those out and run with "the best songs win" mentality. Sometimes we write new songs in the studio together as we're making a record. Or sometimes Tavis and I will jump on skype and knock out an idea from thousands of miles apart. "NEVERMORE" from our new record was written while Tavis was in Vegas and I was in the Yucatan in Mexico.

Q: How have you matured from your first album to now?
We're all smarter and better at what we do in the band and in the business that surrounds the band. We're more fluid now than ever in our playing, recording and decision making. We're tight enough that we don't really rehearse together before tours, we just roll. I think that rawness and "finding each other musically" again is really something special for the audience to enjoy with us at our live shows.
Q: What is your favorite song that you've written and why?
Every album I have a fave, "Best I Can" off of Vices and Virtues, "Everything" off of Rise Up and 'NEVERMORE' off of NEVERMORE.
"Get Thru This" which appears on our self titled record, our lost acoustic record and our Warner Bros record is the most important song I've written, as it's all about my dad, his cancer diagnoses, his 10 year hiatus and his eventual lost battle to the disease.
Q: How awesome are your fans?
They are called the #DieHards and we love the shit out of them. It's like they are part of the music and the soul of the band. I love hearing the stories of how our music has effected people's lives. They have started a community together where they support each other and rally to help each other. It's amazing to witness. Search The Die Hards Art of Dying Official Group on Facebook.
Q: Are you excited about your upcoming show in Baltimore?
Ecstatic! This is the first show of our 40 date headlining tour. It's going to be very special.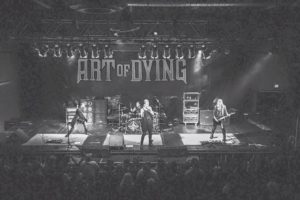 Art Of Dying hits Fish Head Cantina Wednesday!
'Like' Art Of Dying on Facebook
Follow Art Of Dying on Twitter