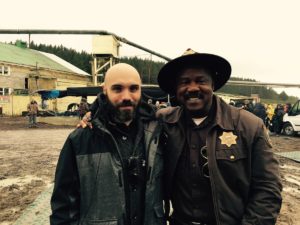 I chatted with everyone's favorite Senator from 'The Wire', Isiah Whitlock Jr, about his new Money Head, "Pete's Dragon, Hillary Clinton, and Donald Trump.
Q: So I hear you're currently shooting the TV show "The Mist." What is it about?
It's a novella by Stephen King, which they made into a movie a few years ago. It's a series about a mist that overtakes a town and terrorizes them. The show delves into the townspeople, their personalities, and their humanity through this crisis. I think it's going to turn out fantastic.
Q: You're also in "Pete's Dragon", which is currently in theaters. What is it about and who do you play?
I play Sheriff Dentler. It's based on a older Disney classic. It's about a kid who is left alone in the forest after his parents are killed while they're camping. While in the forest, he's cared for by this dragon. It's a beautiful film..it NEVER jumps the shark. It's a great film for everyone.
Q:What was it like filming in New Zealand?
That was really amazing. It was..an experience. Whenever I would have free time, I would rent a car and just explore. Australia is very down under..New Zealand is just a little further down under. I had a fantastic time..you don't get too many experiences like that.
Q: What would Clay Davis think about Hillary's email scandal?
::laughs:: Clay Davis would've had that locked up a while ago. It would've NEVER gotten out. I think Hillary needs to take a few lessons from him. Not saying he would've made it go away, but he could've explained everything a lot better. I think she thought it was going to go away, but it hasn't. Looks like it's going to take us up until the election.
Q: What is Clay Davis' thoughts on Trump?
"Sheeeeeeeeeit." ::laughs:: I think that says it all.
Q: Would Clay Davis ever run for President?
You know, I was thinking about what a Clay Davis ticket would look like. I think a Clinton/Davis ticket would be great, but Hillary's already having a trustworthy problem.
Q:What about a Davis/Carcetti ticket?
Oh.. ::laughs:: I can't see Carcetti agreeing to be VP.
Q: What is the Isiah Whitlock Jr Money Head that launches today?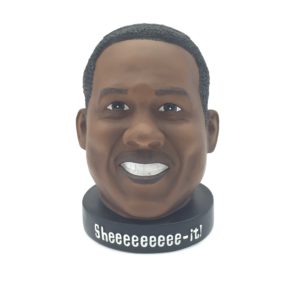 We're trying to solve the economic problem in America, by having your own Super PAC at home by depositing money into the money head. You can put your kids through college, or take that long away vacation with the incredibly handsome Isiah Whitlock Jr Money Head. The  minute you put money into the money head, my voice says "I'll take anybody's money if they're giving it away..Sheeeeeeeeeit."
Buy the Isiah Whitlock Jr Talking Money Head  HERE
Visit Isiah's Official Website
Follow Isiah on Twitter
"Pete's Dragon" is in theaters NOW