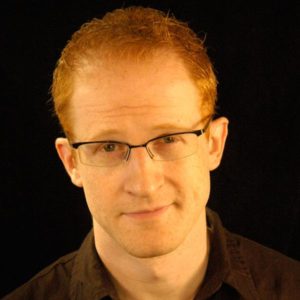 I chatted with comedian Steve Hofstetter about his career and his whirlwind comedy tour of Maryland this weekend!
Q: When did you know you wanted to be a comedian?
I was doing comedy to pass the time. I was VERY unemployable at the time. It was more to promote a book I had written for College Humor. I was doing a show, and the audience was awful. It just…clicked.
Q: Who is your favorite comedian?
My favorite of all time is Bill Hicks.
Q: How do you pass the time when you're on the road?
That is, if there's time to pass. ::laughs:: Sometimes there aren't enough hours in the day. Between writing, comedy, producing television shows, eating, walking my dog, doing shows, answer emails..if I had 12 more hours in the day I would feel much more accomplished.
Q: What is your favorite part of doing stand up?
Probably reaching people. Being able to get to somebody. My favorite feedback I can get from anyone after the show is "I didn't agree with what you said, but boy you were funny." That means that someone who disagrees with me was willing to listen.
Q: What has it been like performing with Brad Garrett and Jay Black?
Jay is actually a good friend of mine. I love doing shows with him. It's rare that you get to perform with equals. To be able to perform with someone who you came up with..it's a great feeling.
With Brad, I had never worked with him before, but my God. He's incredible. Going out of his to make sure we feel comfortable. His fiance is one of the sweetest people I've ever met. They show up to each show with freshly baked goods ::laughs:: I can't say enough good things about them.
Q: What is the Your Tour that's on your website?
It's a groundbreaking new way to do a comedy tour. I have enough people to do a show wherever. I wouldn't need the booker to approve it. I'm selling tickets ahead of time in each city. If we get enough tickets sold, we'll book a venue around it. It could be in a theater, or a showroom, or even someone's backyard.
Q: Are you excited about your whirlwind tour of Maryland this weekend?
I am! It's my birthday weekend so I'm pumped. There's nothing better than a full calendar.
Steve headlines venues in Baltimore, Salisbury AND Frederick this weekend!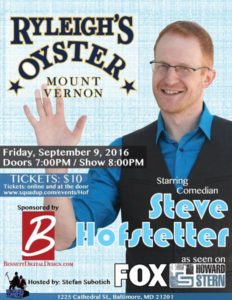 Steve is also performing Saturday, September 10th at Headquarters Live in Salisbury
Steve ends his Maryland tour Sunday in Frederick at Cellar Door
Tickets are only available at the door!
Follow Steve on Twitter