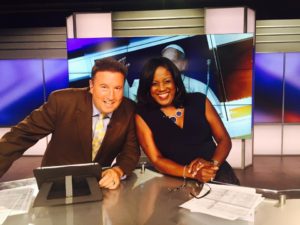 Last month, I had the honor of sitting down with ABC 2 anchors Jamie Costello and Kelly Swoope. We chatted about their careers, the April 2015 unrest, and the Susan G. Komen Maryland Race For The Cure
Q: Why did you choose to go into Journalism?
Kelly: This is the only thing I've ever wanted to do. I was the nosey, curious kid at Thanksgiving and Christmas. I would walk around the dinner table and ask everyone what they've been doing since we last saw each other. It was curiosity.
Jamie: I never spoke from first grade up until sixth grade. I never raised my hand or went up to the chalkboard. One day my teacher assigned us speeches. I was immediately terrified. I went home and my mother coached me. She said to pick out three spots in the room, left, center, and right and look right over there heads. When I delivered my speech, my knees were shaking..mind you these people had NEVER heard me speak. They clapped for me, and I haven't shut up since!
Kelly: I was the opposite, I wouldn't shut up. I was ALWAYS in time out.
Q: Jamie, what has it been like covering your hometown for twenty plus years?
Jamie: Ya know Nick, it didn't hit me until Brooks Robinson called me by my first name.  It's incredible because all the people you came up with are with you still.
Q: A little birdie told me you cry every time you watch "Field Of Dreams..?
Jamie: Don't even start.
Kelly: It's the only movie he watches. ::laughs::
Jamie : I know every. Single. Line.
Kelly: It's a running joke with him.
Q: Kelly, you're from Akron, Ohio. How hard is it to come into a city and adopt them?
I've been here almost twelve years. You try and make it like home. I spent some time in Wisconsin, but it was just too cold. I wanted to get closer to my parents, who reside in Northern Virginia. Baltimore is an easy city to adopt. The people are nice, friendly, not as snotty as our neighbors to the south.. ::laughs:: To be able to sit next to someone.. that knows every street corner..
Jamie: Wait, what?! ::all laugh::
Q: Kelly, what is your favorite part of working with Jamie?
Kelly: He is what you see on TV, real down to earth. Last year, my husband surprised me with a 50th birthday party and my parents came. They had never met Jamie, but they've heard me talk about him, they even live stream our newscasts. They absolutely loved him. If I could sum it up, he's genuine.
Q: Jamie, what is your favorite part of working with Kelly?
Jamie: When she has something on her mind, she takes care of it. I procrastinate…Kelly won't wait. I admire that.
Kelly : I'm obsessive compulsive. ::laughs::
Nothing wrong with that ::laughs::
Q: As anchors, how tough was it to be on air during the unrest?
Jamie: Nick, I remember to this day during the 1968 riots looking out my front door and seeing Orleans Street on fire. I remember my mom having our bags packed at the front door in case we needed to leave. It brought it all back. To see our City like that..it really upset us.
Kelly: To see the national news zip in and zip out..it was just a snapshot. It's not the Baltimore he grew up in, and it's not the Baltimore I've grown to love. It was tough to watch. We were out there for hours. Your phone is your lifeline..social media, Twitter. To see some of the racist things that were said on both sides of the spectrum..Baltimore's not like that. The national news didn't care about the next morning..the rebuilding process, or the officers out in the community.  THAT is how we wanted it to be portrayed. I'm not minimizing the unrest, but as I said before, it was just a snapshot in time.
Q: The Race For The Cure is October 23rd..how important is the race to you guys?
Kelly: It's become a part of who I am. When I joined the Board of Komen Maryland, it was really a way of giving back to the community. I obviously knew of breast cancer, but I didn't have one friend or family member that had been impacted. By the time I had graduated off the board, I had five friends who had become Survivors. Right here in Maryland, we have great hospitals that do great research. Most of the money raised, STAYS here.
Jamie: I had a cousin who passed away in her forties due to breast cancer. I think about her every time I'm out there doing it. The tough part is having someone on with us at the desk, and unfortunately not having them back the following year.
Kelly: The Survivor Walk is amazing. Having the survivors walk and having their teams surround them is so emotional. It's a great support system for those going through treatment, regardless of the weather.
Q: Can it get emotional at times?
Kelly: Oh yeah, especially the Survivor Walk.
Jamie: There's no cookie cutter story..everyone has their own.
Q: What is your favorite part of the event?
Kelly: I love when we bring people up on set. The interaction is great with people who come up behind us as well. They have their teams, and costumes, and chants. It's a big rally!
Jamie: The only way you beat cancer is with positivity, and a winning spirit. Everyone out there is hugging their doctors that cured them, their chemo buddies, their friends..when you can push the good in all these people that's what makes it special.
Q: Would you guys ever consider running?
Jamie: We're too cuffed to the desk..
Kelly: I always write a check, does that count? ::all laugh:: My daughter has walked the past two years with a friend and her mom. It's gotten to be a family event for some people.
Q: Why should people sign up to race, or consider donating?
Kelly: Breast Cancer is something that effects all of us. One in eight women will be impacted in their lifetime. It effects your aunt, your uncle, their family, their friends. One doctor told me we would never ever find a cure just because the nature of everyone's different cancers. We've developed technology that can prolong your life living with it.
Jamie: People should come out and see the spectacle on a Sunday morning in Hunt Valley. Come see the mothers, the daughters..the fighters.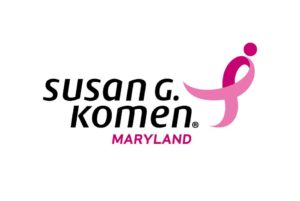 The Susan G. Komen Race For The Cure takes place October 23rd in Hunt Valley!
Donate to my team, Frizzy's Angels
Follow Kelly Swoope on Twitter
'Like' Kelly Swoope on Facebook
Follow Jamie Costello on Twitter
'Like' Jamie Costello on Facebook