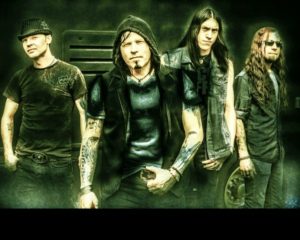 I chatted with local rocker Speed, from the band Silvertung recently about the Maryland music scene and their upcoming tour!
Q: How did the band form?
I put the band together in 2002. I had this idea of what I wanted to do with it, but it didn't work it. I had to shelve it for a while. I placed ads, and I came across Stu.  We went through a couple of guitar players to get where we are right now.
Playing in cover bands was great for a while, but I had original music busting at the seams. That's REALLY what I wanted to do.
Q: Is there a story behind the band name?
I can give you the clean version or X-Rated version.. ::laughs::
Give me the X-Rated version!
One night we were rehearsing in my Uncle's basement, and there were all these VHS tapes lying around. We started looking through them, and I found a porno flick. It was called "Silver Tongue." Jokingly I said "Guys, I got the name of the band!" and I started cracking up. They LOVED it. We didn't like the 'gue' of tongue, it just looked too normal.
That's fucking awesome.
Q: What is your favorite part of performing live?
All of it. My favorite part is beginning the show, when we're pumping each other up. We still get a LITTLE nervous, but it's more excitement and adrenaline.
Q: What does The Tung Nation mean to you?
EVERYTHING. They're the boss. ::laughs:: They dubbed themselves The Tung Nation. We saw t-shirts with 'Tung Nation' and didn't know what they meant. Someone told us what was up, and we were floored.
Q: What is your song "Devil's Advocate" about?"
It's about your inner self.  I think we all carry our own devil's advocate, and we always question ourselves. Some people think it's just the title of a film. ::laughs::
Q: You guys won big at the Maryland Music Awards. How did that feel?
Amazing. First, we weren't expecting anything but play. We were stoked to do it. It's a great foundation, but we were excited to play for everyone we've looked up to for years in the local scene.
Then, we get an email saying we were nominated. We thought it was weird to be honest ::laughs:: We knew most of the nominees, and we didn't think we would win. So up comes the Heavy Metal band category, and backstage we were taking bets on what other band would win. Then they announced Silvertung as the winner. We were floored. The worst thing about it for us is that we didn't know what to say. We weren't expecting it. It's very humbling, but now we have to be that band that everyone voted for.
Q: Are you excited about your tour date here in Baltimore?
Extremely! We're so happy that we can start the tour in Baltimore. We've been on the road for a year, and haven't had a chance to play a show at home. When we were figuring out dates for the show, November 4th HAD to be in Baltimore.
This isn't just about a show, this is about Silvertung representing Maryland, and carrying the torch across the country.

Silvertung opens their North American tour Friday at Angels Rock Bar!
'Like' Silvertung on Facebook
Follow Silvertung on Twitter