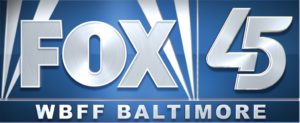 FOX45 Morning News to Add Thirty Minutes to Broadcast
BALTIMORE (December 16, 2016) – Beginning January 16, 2017, WBFF-TV will add thirty minutes to its weekday morning newscast. FOX45 Morning News will start half an hour earlier at 4:30 a.m. (EST) and air until 10 a.m.
FOX45 produces the most comprehensive local news during the morning hours in Baltimore. FOX45 Morning News is the only local newscast to provide continuous on-screen traffic, weather, and sports alerts on the FOX45 Morning News ticker – even during commercials. It is the most extensive locally-originating newscast in Baltimore during the hours of 4:30 a.m. and 10 a.m.
"This is another example of FOX45's commitment to our community", says WBFF-TV General Manager William Fanshawe. "We'll be creating more valuable content and reach even further into our communities to bring viewers news from their neighborhoods." FOX45 News brings the Baltimore area more daily coverage than any other television news operation in Baltimore. With this addition, WBFF-TV will produce nine hours of news every weekday. Fanshawe added, "We've expanded the morning news multiple times in the past several years and each time Baltimore viewers have responded well. There's a need and desire for viewers to have a connection and understanding of the events, places and people that affect their daily lives and FOX45 is the best positioned television news organization to fill that demand."
FOX45 Morning News was the number one rated newscast in Baltimore from 6:00 a.m. to 9:00 a.m. in the key demographic of Adults 18 to 49 during the November 2016 ratings period.
FOX45 Morning News is co-anchored by the award-winning team of Patrice Sanders, Tom Rodgers and Megan Gilliland. Meteorologist Jonathan Myers brings viewers weather forecasts every ten minutes while Candace Dold and "Traffic Jam Jimmy" report area traffic conditions every ten minutes as well.
WBFF-TV is owned by Sinclair Broadcast Group, Inc., Sinclair is one of the largest and most diversified television broadcasting companies in the country. Including pending transactions, the Company owns, operates and/or provides services to 173 television stations in 81 markets, broadcasting 482 channels and having affiliations with all the major networks. Sinclair is the leading local news provider in the country, as well as a producer of live sports content. Sinclair's content is delivered via multiple platforms, including over-the-air, multi-channel video program distributors, and digital platforms. The Company regularly uses its website as a key source of Company information which can be accessed at www.sbgi.net.