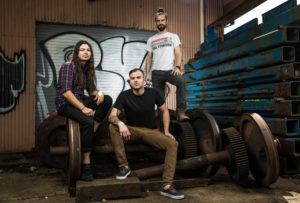 I chatted with Baltimore's Megosh about their inspirations and the Maryland music scene
Q: How did the band form?
Josh and Finch live less than a mile from each other. They were old friends. They actually sang karaoke at a friends birthday party that took place at Discovery Zone when they were 12. They eventually started their own bands and didn't really cross paths too much. The odd part about how they started playing music together is that they were both trying to get ahold of one another on the same day via Myspace (this was a while ago haha). They originally planned on forming something from scratch, but Josh already had another band called When Gotham Falls so they ended up just merging it and Finch started playing guitar for them. It wasn't long after that Megosh was conceived. We found Derv on Craigslist.

Q: Is there a story behind the band's name?
We love 80's movies. Megosh is a minor character from a fantasy movie with Val Kilmer.
Q: Are you excited about releasing your debut album, "Apostasy?"
No, not really. And by that we mean HELL YES!!!!!!
Q: What is your favorite song off the album, and why?
We might have favorites individually, but certainly not collectively. And even our individual favorites seem to change over time. We are proud of the fact that there are no filler tracks.
Q: What is your song "Desperada" about?
It's about the reciprocating toxic ex-boyfriend or girlfriend that you finally get over but recirculates back into your life to ruin it all again!
Q: What is the craziest thing you've ever done in life?
Once upon a time in New Mexico, Finch rode a horse naked. They said it had been ridden before. It hadn't.
Q: Who inspires you?
J. D. Salinger, F. Scott Fitzgerald, H. P. Lovecraft, any author who uses initials really, haha. One of us *cough Josh* is a literary nerd. Also, our mothers. Friends. Fans. Especially fans! Let's see who else… Freddy Mercury, Claudio Sanchez, Bobby McFerrin, Hall but not Oates, Kim Kardashian, Bill Collins (Phil's lesser-known cousin), and Steve.
Q: What is your favorite part of being a part of the Maryland music scene?
The local music scene is great- there are so many good bands around here. Its just great to be a part of something you can be proud of!
Q: How was your recent show in DC?
Our Show in DC was great! We love Thank You Scientist and we got a really great response!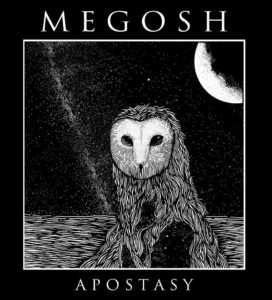 "Apostasy" is out now! Download
Follow Megosh on Twitter
'Like' Megosh on Facebook