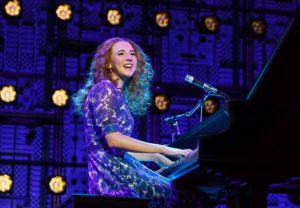 First, I have to thank the Hippodrome once again for inviting me to opening night of "Beautiful: The Carole King Musical."
What. A. Show!
Of course you know Carole King is a famed singer/songwriter who wrote tons of hits throughout the years. However, you may not know the struggle she went through personally and professionally.
Julia Knitel, who portrays King, is magnificent. She SLAAYYSS "Natural Woman" toward the end of the show. Just tremendous.
Between the great cast, and brilliant performances (and let's be honest, you'll know ALL these songs), "Beautiful" is NOT to be missed!