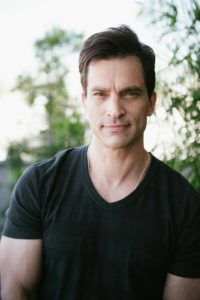 I chatted with Baltimore native Johnathon Schaech about his love for Baltimore, and his new film "Arsenal."
Q: What is "Arsenal" about, and who do you play?
It's about two brothers who had to practically raise themselves. I'm the eldest brother, the youngest brother is played by Adrian Grenier. I took care of him and taught him everything he knew. My character fought for his country, but was discharged. He was given an Other Than Honorable discharge, which means he can't receive benefits.
The story unfolds as a mobster (Nicolas Cage) who my character had run for as a kid, comes back into the picture. Adrian's character receives a ransom demand for me, but he doesn't buy it. He thinks it's all a set up, that I faked my kidnapping.
Adrian and I did a film two years ago called "Marauders." We were SO different, but so a like at the same time. He's like a brother. So we decided on this script. We ended up shooting this in twelve days. It was supposed to be 13, but we had a fucking Tornado Watch one morning, and couldn't shoot ::laughs::
Nicolas Cage came in and wanted to bring a slightly different background to his character. We had a Director that would let us toe the line a little bit. We would play our instruments slightly different, but kept the melody of the song so to speak. He came in, shook my hand, which is a huge deal to me being from Baltimore, and went APE. SHIT. the next sixteen hours. He was a spectacle to watch.
Q: You're an actor, a father, a husband..how hard is it to balance everything?
Everything revolves around my life, so it's all balanced. My main focus is spending as much time with my wife and son as I can. I have to watch what I book sometimes, so I'm not gone for so long. But I have to support them, so it's a Catch 22.
Q: When you visit home, what is ONE place you have to visit?
If there's an Orioles game..I'm there! Love. Love. Love. The Orioles are home to me, even when it's stressful.
Q: What does 2017 hold for you?
I'm not sure what's happening with my role on "DC's Legends Of Tomorrow." I haven't even asked honestly. But I would love to go back.
I co-starred with Antonio Banderas in a film that is slated to come out this year. I also played Bub in the "Day Of The Dead" remake that is coming out this year as well. I'm pretty excited!

"Arsenal" opens nationwide AND ON DEMAND Friday, January 6th!
The movie opens at the AMC Rio 18 in Gaithersburg. Buy tickets
Follow Johnathon on Twitter
Visit the Official "Arsenal" Website