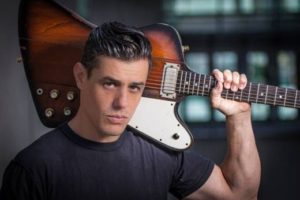 I chatted with Nick Schnebelen about his musical influences and his crazy tour schedule.
Q: Talk about your childhood..where did you grow up?
I was born in Kansas City, MO and we lived in the town I live in now, Raytown, MO. It used to be the suburbs of KC, but now the city has since grown around it. When I was 4, we moved to the country and lived in a small town called Rich Hill. I loved growing up in the country. The world is much slower and quiet viewed from a small town. I really miss the quiet at times! We then moved back to KC where I got to go to a performing arts high school called Paseo Academy of Performing Arts and study guitar, music theory, and all other forms of art. This was a spectacular opportunity and I graduated from there. A year later at 18, I moved to Philadelphia to perform on the East Coast and stayed there for 9 years playing with my band K-Floor. We toured the US and East Coast playing high energy blues. It was a great opportunity to also bring my brother and sister up to start Trampled Under Foot.
Q: What was it like performing in a band with your siblings?
It was great at times and rough at times. It's not an easy endeavor.
Q: Do you have any musical influences?
My influences are varied, I play a lot of different styles of blues and have influences for many of them. For electric guitar, I like BB King, Freddie King, and Albert King as well as Johnny Winter, even Jeff Beck in certain places… For my dobro, it's Johnny Winter all the way as well as Blind Willie Johnson
Q: Favorite song of yours and why?
One of my favorite blues songs would have to be "I Wanna Go Home" by Muddy Waters because it captures a unique call and response for the all-star band. It's a song you don't hear very often..it's a masterpiece.
Q: Favorite memory of traveling the world?
I have many!!! The one I think of the most is playing in Sierre, Switzerland. Just the whole weekend of wine, great coffee, and great conversations with the locals amidst a backdrop of gorgeous mountains. I also love touring Norway. The people and the fjords are beautiful!
Q: You're a musician, a family man..how hard is to balance everything?
It is tough. The kids miss you, you miss them, and the road needs constant office work which I can never keep up with.
Q: Favorite city to play in?
My favorite city to play in these days has been Memphis because I have a ton of friends there and the people love to come dance and listen to the blues!
Q: Pros and cons of being on the road?
Pros, you get to drive as much as you want! And you get to eat as much junk food because that's all there is available!
Cons, it is a constant busy that is tough to keep up with.

Q: Are you excited about your show in Annapolis this week?
Absolutely!!! the first time I played there was a few years ago with my brother and sister in Trampled Under Foot. We crushed it! I hope to do the same this time with my band!!!!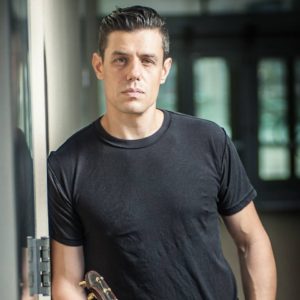 Nick Schnebelen and his band opens for Davy Knowles tomorrow at Rams Head Annapolis!
Visit Nick's Official Website
'Like' Nick on Facebook