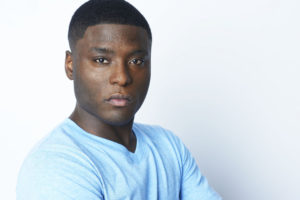 I sat down with local actor Ty'ris Lee recently. We chatted about his life growing up in Baltimore, and his new project.
Q: Talk about your childhood
A: Growing up I had a great childhood, although I didn't live in the best areas(SouthWest Baltimore). As a child I watched television a lot mostly anime in played video games with my nephews and cousins, when we weren't outside playing basketball. I attended Franklin Square Elementary where I received many awards. Honor roll, Academic Achievement award, Dramatic reading award. Later, in my preteens I relocated to Woodlawn, MD where I attended Woodlawn Middle and Milford Mill Academy.
Q: When did you know you wanted to become an actor?
A: Growing up I had a crazy imagination but it wasn't until 14 that I realized I was called to be a actor. At 18 I started pursuing acting an auditioned for my first short film "Broken House" Directed by Khoran Lee who saw I had a natural talent in sent me to Arena Players. There I learned much about the stage, within recent years I decided to continue honing my craft through school while continuing my career. I've had the pleasure of performing at many venues; The Reginald F. Lewis Museum, Walters Art Museum, The Strand Theatre, The Carrot Theatre, Kennedy Center, The Enoch Library, Arena Players, Coppin State University, just to name a few. I also just have a short film on Amazon "Lucid" and currently having screenings for my new film Black In Blue, where I play the Lead Marcus Lavine, who's a cop on the right side of justice.
Q: Who inspires you?
A: Honestly, Actors who inspire me are the lovers of the craft their are people who do it in theirs people who love it.

Q: What is your new play called, and what is it about? Who do you play?
A: The play is titled "As Much As I Can", written by Sarah Hall. This play is an immersive experience created with and about the LGBT Communities of Jackson, Mississippi and Baltimore, Maryland…..Two cities disproportionately affected by the HIV epidemic. I play the role of Peter Arnett a Barber and I'm the Understudy for the lead George.
Q: What can people learn about HIV/AIDS from this?
A: People can learn A LOT. First and foremost, being safe and aware of their decision when being sexually active. Diseases are real. I think people forget that when they are involved with someone. You can't trust every lip that says "I love you." I'd say check before sex.
Q: What was the most challenging part of this play?
A: The most challenging part of this production was definitely the transitions. Because this production isn't your typical style of theatre, the audience actually are involved. I don't want to give to much away but the audience will be moving a lot.

Q: Are you excited about the opening this
weekend?
A: Yes, I'm extremely happy! Man we've worked so hard over the past weeks. This is my first time working with this company in the cast and crew is phenomenal everyone is so professional and ready to work. This style of theater is new for me and a blessing to have this opportunity. We have a great team! I can't wait for the public to see how hard everyone worked for this show.
"As Much As I Can" opens this weekend at the War Memorial Building in Baltimore
Follow Ty'ris on Twitter