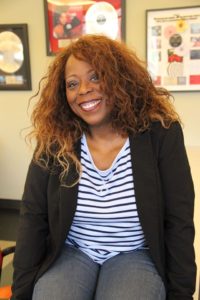 I chatted with Neci from MIX 106.5 and HFS about her dual role, and what it takes to last in the radio industry.
Q: Talk a little about where you grew up, your childhood..
I moved to Baltimore from Philadelphia when I was eight years old. I've been here ever since!
Q: What kind of music did you grew up on?
Oh, I used to listen to The Cowsills, The Guess Who..stuff like that.
Q: When did you know you wanted to be on the radio?
Age 3..
Oh you HAVE to explain.
My dad would always play the radio around the house, and I used to tell him that's what I wanted to do. When I was five, he took me to my first show. At the time you could go to the drive in theaters and see shows. There was a guy on stage introducing the acts..that was the moment I knew.
Q: What is the most challenging part of being on air twice in one day?
You get tired. ::laughs:: You have to talk a lot, but for me it's not that bad. I do MIX which is TOTALLY different than HFS. They both have different flows. I'm a Gemini, so it's a breeze. ::laughs::
Q: What is one of your favorite tracks to play on HFS?
Oh that's tough. There's SO MUCH music I love over there. Probably anything form Tool. They're one of my favorite bands. I've been with HFS so long that I could name many  more like, Lemon Heads from back in the day. MUSE as well..so many things I love.
What about MIX?
I'm totally enthralled with the new Ed Sheeran. When I play "11 Blocks" by Wrabel, I shut the door because I CRANK. IT. UP. He's such a cool guy. I tweet him back and forth sometimes.
Q: Who inspires you?
When I was a little girl, there was this woman on WSID 1010AM. The thing that I LOVED about her…is that she rocked like the fellas. In radio sometimes, they tend to expect women to be more sexy. Nope. I try to bring her same energy. I love my music LOUD and raunchy. I'd love to know where she is, she might be dead by now though.
There was another DJ on WWIN named Alan Jefferson, and his delivery was like butta. It was so smooth, you wanted to wrap your arms around the radio.
Q: Back in December MIX 106.5 hosted Mistletoe Meltdown. How was it hanging out with Gavin DeGraw and the other acts?
Hailee Stenfeld was total class. Andy Grammer was a really cool guy, but Gavin DeGraw had my heart. The first thing I asked him was "How ya doing?" He replied "Oh I'm good, thanks."I responded "No..how are you doing?" See, I remember a few years when he was beat up back in New York. That story effected me so bad..I wanted to know if he had any side effects like PTSD because they beat him pretty badly. Priestly said in that conversation he saw "the bubble" around us, as he calls it. Gavin's music is so from the heart. It was great to connect with the songwriter face to face.
Q: What is your favorite part of events like that?
Putting faces on my listeners. I love to see the people who choose to listen, because they don't have to. When I first started radio, all you had was the radio. Now you have iPods, satellite radio, and so many other things. The fact that someone takes time to listen means the world. They choose you, so it's your job to make them enjoy their stay, whether it's ten minutes or two hours.
Q: What does it take to last in the industry?
A sense of humor..the ability to live on so little money. I posted this recently on Facebook actually. The ONLY reason you get into radio is because you love it. Howard Stern is the anomaly, I guess. You miss funerals, birthdays, weddings, holidays..everything is a split second behind radio. When I did HFS overnights, I would wake my son up before I left for work so I could see him open his Christmas presents. You can't imagine NOT doing it. I feel lucky..VERY lucky in doing what I love.
Q: What is your favorite part of working here at MIX and HFS?
Well, HFS is a given. I've been there since October of 1985. They call me the last DJ standing ::laughs:: There are some AWESOME people here like Priestly. I just adore him…he's like my bratty younger brother. Fran on WLIF..I love her as well. From people on board ops on up..I work with a lot of passionate people.
I'll always remember staying here for three days during the last blizzard we have. You REALLY get to know people when you're stuck with them for 72 hours during a snow storm. I couldn't imagine not coming to work. I figure if there are people out there clearing the roads for us, or even police officers on patrol…I can help them out by relaying information to the public, or even playing songs for them.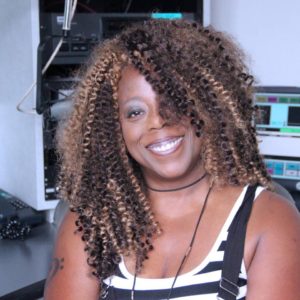 Neci hosts Nites With Neci Monday – Friday on MIX 106.5! Also catch her 1pm – 6pm on HFS!
Follow Neci on Twitter here and here
'Like' Neci on Facebook