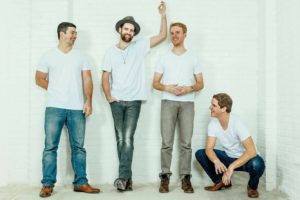 I chatted with Stu from Gotham Theory about his influences and his love for his band mates.
Q: Talk a little about your upbringing, etc
I'm a Baltimore County native. Played in my high school's punk band…that is standard when you're fourteen and fifteen years old.
Q: Who inspires you?
Woah. That's deep. ::laughs:: With respect to Gotham Theory, Sam, Josh and Zach REALLY push me to learn more and more about my instrument. They're amazingly talented..I feel like I'm the low man on the totem pole.
I was a Reel Big Fish fan growing up. I've always wanted to meet Aaron Barett..he's so fun on stage.
My brother would be an inspiration as well. He's gotten me out of some trouble! ::laughs:: He's the reason I started playing the bass. I would imitate him when I was younger.
Q: What is the craziest thing you've ever done in life?
I went to college ::laughs:: Tons of crazy stuff happens there. Some people think it would be crazy to get on stage and talk or sing into a microphone in front of hundreds of people. So I could say that as well.
Q: I want you to give each of Gotham Theory's members High School Superlatives
Zach is 'Most Likely To Break His Guitar Amplifier.'
Josh is 'Most Likely To Get Sunburned'
Sam is 'Most Likely To Make You Feel Short.'
Q: You have a full time job, you have a great girlfriend, you take tons of trips, you're in Gotham Theory..how difficult is it to fit everything in?
It's pretty difficult. My girlfriend lives in Richmond. I have to plan out a few weeks in advance our schedules. We try and get practice in during the week..it takes a lot of effort.
Q: What was it like playing Artscape?
It was SO surreal. Growing up in Baltimore, it's always been a dream of mine. It's the pinnacle of musicians coming together. But getting to be interviewed by ABC 2 News? I didn't mind getting up at 4:30 in the morning and meeting them on Charles Street. It was super awesome!
Q: You're going to headline one of the stages this weekend at Frozen Harbor Fest. What does it mean to you?
I feel like everything has taken off lately..things are falling into place. Artscape was a HUGE milestone in our careers. Frozen Harbor is such a great mix of Baltimore musicians and outside talent as well.
To be able to headline one of the stages is just CRAZY.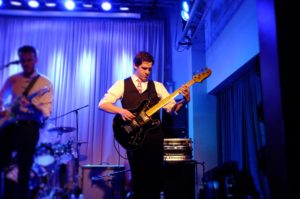 Gotham Theory headlines the Luckie's Tavern stage this Friday at the Frozen Harbor Music Festival!
Buy tickets to Frozen Harbor Fest
Buy tickets to Gotham Theory's Show
Follow Stu on Twitter
Follow Gotham Theory on Twitter
'Like' Gotham Theory on Facebook
Visit Gotham Theory's Official Website