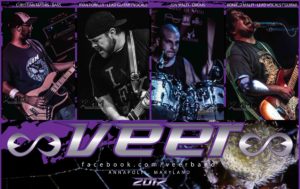 I chatted with Ron and Jon Malfi about their upbringing, and their band "VEER."
Q: Talk about your childhood, where you grew up, etc..
Ron: I was born in New York..Jon was born in Boston. We moved to Maryland when I was nine, Jon was..wait how much younger are you than me? Eight years?
Jon: I guess..
::everyone laughs::
Ron: Regardless, our family is still here.
Q: Who inspires you?
Ron: Years ago we had our first band, which included our other brother Darin. We played shitty covers of Springsteen songs, and Jerry Lee Lewis songs on the piano.
Jon: We would jam for hours. I was probably four or five.
Ron: Yeah, you had a mini-drum set.
Jon: I think we both kind of had the same influences. Some of the oldies, but huge on 90's grunge. I was a metal head for sure.
Q: Jon – What is it like playing with your brother in the band?
It's got it's perks..and it's down falls. ::laughs:: You revert back to something that happened when you were seven years old that was NEVER resolved. Ron was in another band with my other brother, and I was in a different band. It's cool to finally be in a band with Ron.
Our kids run around and will be like "Uncle this and Uncle that are playing in band together!"  The kids even know the other guys in the band as well. Another perk is that we know how each other works, so it's easier for the songwriting process.
Q: What is your songwriting process?
Ron:  A little bit of both. Normally I have an idea, and Jon will throw some drums on it. I prefer more of a rock beat.
Jon: I try to throw a poppy beat out there, but we usually end up somewhere in the middle.
Q: Is there a story behind the band name?
Ron: You wanna take this one?
Jon: Yeah I got this! We've all known each other..we've all played in bands together at some point. We all..veered off into different direction. Over time, we all just came back together.
Q: Is there one song that you guys like the best?
Ron: For me, it changes. Sometimes, I hate ALL of our songs. The next day? I love them. Jon can tell you that I'm like that with my books as well. It all depends on my mood.
Jon: I don't have ONE favorite really. I think each have their own unique quality. I like them all for different reasons.
Q: Ron – you're an author..Jon, you have Free State Custom Guitars…you both have kids. How do you fit VEER in?
Jon: I see what you did there!
Oh snap, I didn't even mean to do that ::laughs::
Ron: The hardest thing is turning down gigs. Whenever I have a book released, I have to set aside a few weeks to do press and book signings. So really, the band comes last..whenever we have time to play gigs.
Jon: Our family is our REAL job.
Q: Are you guys excited for your show this weekend?
Ron: Fuck no!
SAME.
Jon: We're REALLY excited. We get to play in our town and at a place we love. We have people coming from Baltimore, DC..
Ron: Should be a lot of fun!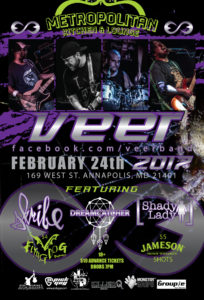 VEER headlines Metropolitan Kitchen & Lounge this Friday!
Follow VEER on Twitter
'Like' VEER on Facebook