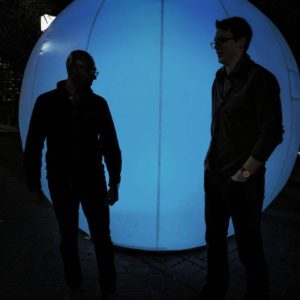 Q: Where did you guys grow up?
Vishnu: I grew up in Northern Virginia, near D.C. I've lived in various places like Connecticut, Cincinnati…I came to Baltimore about five years ago. Love this city!
Walt: I'm from Northwest Pennsylvania. Kind of in the middle of nowhere. I moved to Baltimore after college for work and to make money.
Q: When did you know you wanted to be a musician?
Vishnu: I started playing guitar at around eight years old. I grew up in the 90's Grunge era. I love SoundGarden, Nirvana, Bush..that's what got me into playing guitar. My step dad got me started, and then I continued with lessons after.
Walt: My resume isn't as nearly as long.. ::laughs:: I started when I was in college. I wanted to make the sounds that made me enjoy myself, for other people, if that makes sense. I learned by ear, using the internet a lot, which Vishnu didn't have when he was a kid.I think they still had stone tablets back then.
Q: What is your favorite concert that you've ever been to and why?
Vishnu: One of my favorites has to be MUSE back in 2004. I saw them at UNC-Charlotte. That was before they got big when they were touring colleges. My friends and I drove from Virginia Tech. They had so much energy and passion. I will NEVER forget it.
Walt: For me, it would have to be St. Paul and The Broken Bones. The lead singer is this big white guy who has one of the most amazing set of pipes I've ever heard in a human being. They're so intense and so soulful..I was dumbstruck.
Q: What is your favorite song to play live?
Walt: "Word of Mouth" by  Shakey Graves
Vishnu: I will be premiering this on Thursday actually. "R U Mine?" by the Arctic Monkeys.
Q: What is your songwriting process?
Vishnu: I mess around on my guitar and come up with a riff or melody and go from there. I have to be in the right state of mind. Sometimes I can go for twenty or thirty minutes coming up with lyrics. Other times I might have to revisit a song after a few days to really connect to it again.
Q: What is your favorite part of performing live?
Walt: Seeing everyone that's come out to support you. We get tons of friends to our shows, and it means so much to us.
Vishnu: Feeding off the energy as well. Seeing people singing and dancing to a song your singing elates me, but also gives me even MORE energy while performing.
Q: If you guys could bring in one artist living or dead to perform with, who would it be and why?
Vishnu: Jimi Hendrix. He is one of thsoe guys that has such natural talent. He had such an unconventional way to write music and play.
Walt: Mark Hoppus from Blink 182. He's been one of my inspirations since I started.
Q: How did you guys meet?
Vishnu: We met through our friend Christian..
Oh! Of course. That's how we ALL met each other ::all laugh::
Walt: "Matchmaker, matchmaker, make me a match.."
Vishnu: I met Christian originally through Baltimore Social.
Walt: He told me that he had a friend who played guitar. I think we all met a bar in Fells. Yes! We did! I remember Vishnu telling me that he had been playing guitar for like twenty years.
Vishnu: I WISH.
Walt: That's almost as long as I've been alive.
Q: Are you guys excited about your performance at Trinacria Cafe this Thursday?
Vishnu: I know I am. We'll have some covers to ease everyone in, and then pull out an original or two. We don't play songs that people EXPECT you to play acoustic, like "Wonderwall.."
Walt: Ugh, THAT SONG
Vishnu: It's cool to see everyone's faces when they realize what song we're busting out. We go back to the 80's, the 70's, and some current stuff. We're pretty pumped.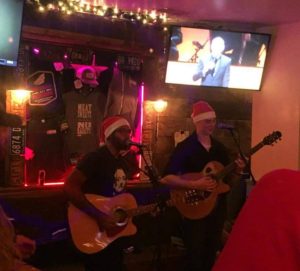 Vanishing Act plays Trinacria Cafe in Baltimore Thursday at 8pm!